De Grasse confident going into national championships
Star sprinter Andre De Grasse wants to put on a show on home soil before he goes back to thrilling the track world on the international stage.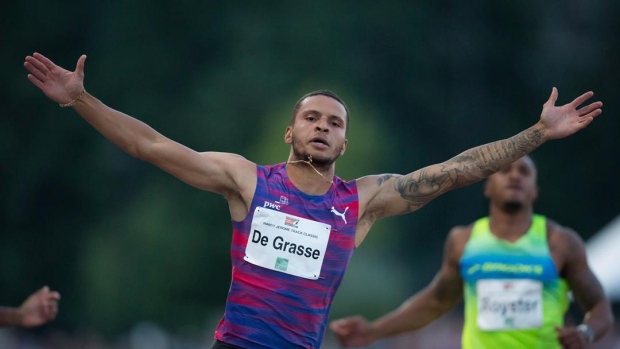 OTTAWA — Star sprinter Andre De Grasse wants to put on a show on home soil before he goes back to thrilling the track world on the international stage.
De Grasse, who won silver in the men's 200 metres and bronze in the 100 and 4x100 relay at the 2016 Rio Games, is one of the country's top athletics stars in Ottawa this week for the Canadian track and field championships and wants to make sure he gives local fans something to remember.
"This is a chance to represent on home soil," said De Grasse, who is gearing up of the world championships in London and ultimately has his eyes on gold at the 2020 Olympic Games in Tokyo. "I don't get the opportunity to compete in Canada a lot so I'm happy to be here and looking forward to putting on a show."
De Grasse holds the Canadian record in the 200 metres and would love to take over the 100 metres record of 9.84 that Donovan Bailey set in 1996 and was matched by Bruny Surin in 1999.
In many ways De Grasse is the first track superstar Canada has had in two decades since Bailey and the relay team that won gold in Atlanta in 1996.
"The sky's the limit," said Glenroy Gilbert, interim head coach at Athletics Canada and 1996 Olympic gold medallist in the 4x100 relay. "You're looking at a supernova, they don't come along every day.
"Andre is one of those guys that simply don't come along every day and I think we're going to see some great things coming from him in the coming weeks and months and years to go. I don't think he's topped off at what he can do."
With Usain Bolt, who won gold in the 100 metre and 200 metre at the past three Olympic Games, retiring this year De Grasse was asked about the passing of the torch. The two will go head-to-head in London next month.
"I haven't really thought about that," he said. "For me Usain is a great athlete and it's up to myself and a couple other guys, we have a young generation, where anyone of us could fill the void. It's up to us to keep it going, keep the sport moving. He's done a lot for the sport, he's a great ambassador for the sport."
While he hasn't taken over the world just yet, De Grasse has already revitalized Canada's track community.
"It feels pretty good," admitted the 22-year-old. "It's an honour, it's humbling just to be the guy to try to bring back the sport after 20 years. I'm just trying to carry the torch and I'm looking forward to that.
Gilbert says it's exciting to see Canada making a name for itself on the world stage.
"There were some dark times," said Gilbert, who will be inducted into Athletics Canada's Hall of Fame Wednesday night. "We've won five, eight, six medals at the last three big world events and we've never been in that place. This is a unique group of athletes that we have and it's a unique time for Canadian athletics."
Ottawa track and field enthusiasts will have a chance to see some of the country's best this week as they compete for the opportunity to represent Canada at the world championships.
De Grasse, who will defend his Canadian 100-metre title and run in the 200, will be joined by Melissa Bishop in the 800 metres and Shawn Barber and Alysha Newman in pole vault.
Derek Drouin, who won gold in high jump in Rio, will look to defend his Canadian title as well.
Drouin admits there is a challenge following an Olympic year, but he took some time off and feels confident after returning to action, and despite results not being exactly where he wants them.
"I've been pretty much on par with where I've been at in years past, but I always am expecting more," said Drouin. "If I didn't have the experiences of the last couple seasons of I knew this is where I was yet I was able to get to a certain point when it mattered I might be a little bit discouraged.
"I'm an athlete and always expect more, but it's important to keep yourself in check and realize this is a journey and the real important meets are in a month and a half from now and I'm gearing for that and I'm confident with the progression."