Defensive backs will put stamp on this year's rookie class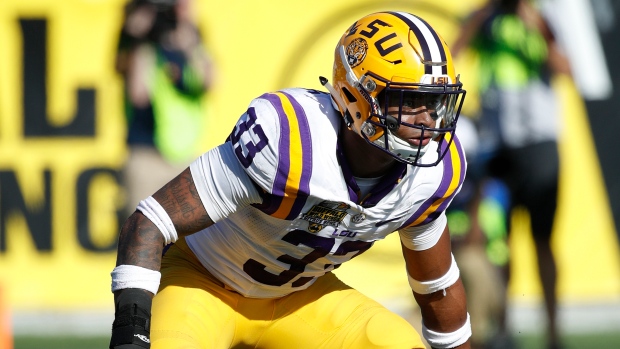 Last year's draft was about the quarterbacks, with Jared Goff and Carson Wentz the first two players off the board. Two years ago, it was the re-emergence of the running backs, with Todd Gurley and Melvin Gordon the first runners taken in the first round since Trent Richardson in 2012. And three years back, it was all about the pass rushers, with Jadeveon Clowney, Khalil Mack, and Aaron Donald all selected early on.
This year, it should be the defensive backs that are most remembered. With as much as a dozen cornerbacks and safeties combined earning first round grades in the mock draft roundup, no other position will get as much play Thursday night when the picks start coming in. Even if we blur the line between defensive end and outside linebacker, the next closest position group, defensive line, should fall a couple picks short of the ball hawks.
With this year's quarterback class too underwhelming to steal the show, and likely a full third of the first round to be devoted to the position, the DBs have a real chance to claim the spotlight of this year's rookie class.
As many as five could sneak into the Top 10, but at least three should be there, the no doubters: cornerback Marshon Lattimore, and safeties Jamal Adams, and Malik Hooker.
Adams, who can play both strong and free safety and is touted for his leadership qualities; and Lattimore, a lockdown corner with impressive athleticism, should both be Top 5 picks. Adams could go as high as Number 2 to the San Francisco 49ers, where new general manager John Lynch knows something about the impact a top safety can have on a defence. And Lattimore should be slotted into the third or fifth pick, where the Chicago Bears and Tennessee Titans respectively each have a big need at the position.
Hooker, meanwhile, shouldn't get past the Los Angeles Chargers at No. 7. A teammate of Lattimore's at Ohio State, Hooker boasts similar skills to Adams, but his scouting reports were also affixed with the "raw" label after starting only one year with the Buckeyes.
Others who have crept into the Top 10 in various mock drafts include cornerbacks Marlon Humphrey and Gareon Conley, two names to keep particularly close attention to at No. 10, where the Buffalo Bills could be looking to replace the departed Stephon Gilmore.
Humphrey and Conley lead the group of DBs a tier below the top dogs, but who, barring a Laremy Tunsil-type surprise come Thursday night, won't have to sweat it out very long in the Benjamin Franklin Parkway green room.
Tre'Davious White, Kevin King, Chidobe Awuzie, and Adoree Jackson also belong in that group, pushing the total of first round DBs to at least nine.
From there, it would be a surprise if at least one or two more weren't added. Guys like safety Jabrill Peppers, whose pre-draft hype along could secure him a first round selection, and cornerbacks Quincey Wilson and Cordrea Tankersley will be popular suggestions from the draft broadcasters come late Thursday night.
And two other prospects at least deserve mention among the potential first-rounders in Sidney Jones and Teez Tabor. Jones' talent is on par with Lattimore's, but a pre-draft Achilles injury will force him to miss the entire 2017 season. And Tabor was firmly entrenched in the second tier until his 4.6-second 40-yard dash at the NFL Combine in February.
A team with the luxury of being able to wait a year for Jones, or likewise one that wisely doesn't put too much stock in the "underwear Olympics" that is the Combine, will get tremendous value from one of these players in the second round.
This year's class should surpasses the nine defensive backs taken in the first round in 2014, and be the first time in more than a decade the number of first-round defensive backs reaches double digits. Not all them will work out, they never do, but strictly from a numbers standpoint, the odds suggest at least a few high profile, future Pro Bowl types can be had this year's class; needy teams just have to make sure they draft the right ones.