DeLaet ready to get elusive first win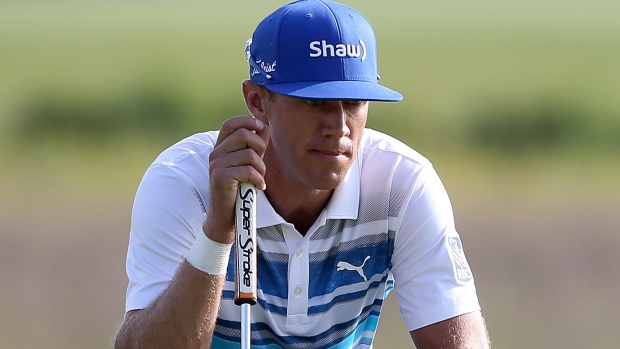 Graham DeLaet has been here before. He's played in the final group on Sunday and had chances to get his first win.
Each time, it hasn't worked out. He's been beaten and he's beaten himself. Goodness knows, winning on the PGA Tour is never easy, but lots of people, including DeLaet himself, thought it probably would have happened by now.
On Sunday, the pride of Weyburn, Sask., will have another try to notch that maiden win at the RBC Heritage and this time, it seems different. He's one shot back of the lead of Jason Dufner, but has played some of the steadiest golf of his career on a course that he loves. And he knows exactly where he stands.
"Obviously this is the one thing that's kind of missing," DeLaet said after his third-round 69. "So there's going to be some battles that I'm going to have to -- inside, that I'm going to have to deal with.
"I feel like I'm ready now. I want to get this monkey off my back, and I want to get it done. I'm going to go out and try to have fun tomorrow. I think if I do that, which is what I've done the last few days, it's going to be fine."
DeLaet is in this position in no small part to being able to hit the small greens at Harbour Town. Through three rounds, he's landed his ball on 47 or 54 of them, the best in the field. That's a tribute to his exceptional ball-striking.
But it's what happens after that which has made the biggest difference this year for him and in some ways, what's held him back from winning in the past
His putting is stunningly improved over 2016. Last year, DeLaet ended up 139th in Strokes Gained: Putting. A year before that, 110th. This year, he sits 15th in that category. He's never been known as a good putter and it was one of those should-have-won moments that led to a breakthrough moment.
Last year, at the Valspar Championship, DeLaet had a glorious opportunity to win. But his putter didn't just fail him, it laughed at him.
"I couldn't hit the hole from a foot and a half," he told me earlier this week. "It was embarrassing how bad I putted."
It was that loss that drove him to the point of desperation, to look for answers and he found it in a training aid designed by Peter Kostis – the Putting Professor.
The aid keeps the putter face square to the target line throughout the stroke and for whatever reason, it's worked for DeLaet. His stroke has been simplified and he isn't guessing about what he's doing any longer.
Oh and those chipping issues he admitted to last year? They're gone, although that is still a weaker part of his arsenal.
However, for the first time in his career, he goes to Sunday with confidence through the bag. He also has enough scar tissue built up from the previous chances that nerves won't be an issue either. Heck he seems more excited to watch he beloved Calgary Flames on Saturday night than his final round.
"I think more than anything it's just to stay in the mix on the front nine and see where we're at on the back nine," he said of his plan for Sunday. "If we need to get aggressive and try to make some moves, we'll do that. If we need to keep plodding along and see what happens the last few holes, we'll do that. A lot of it is going to depend on what the other guys are doing, and I can't really do anything about that, so we'll keep the game plan up in the air."
Again, winning on the PGA Tour is never easy. You need great play, a few breaks and even a bit of luck. DeLaet is hoping for all of that and a chance to finally get that first win.