Devils' Boyle says cancer is in remission
The New Jersey centre will continue taking medication and attend regular checkups with doctors to monitor his health.
Frank Seravalli, TSN Senior Hockey Reporter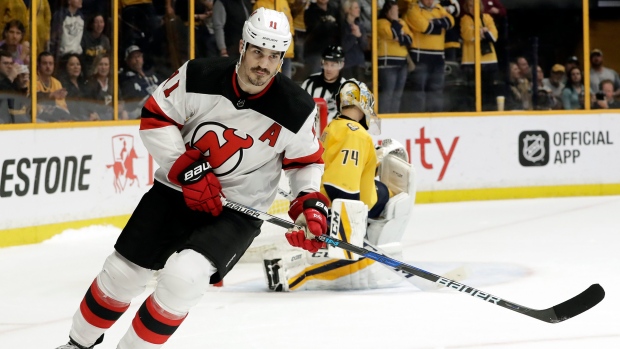 New Jersey Devils centre Brian Boyle said Wednesday his cancer is officially in remission after receiving his latest blood test results earlier this week.
Boyle was diagnosed with chronic myeloid leukemia (CML), a rare but treatable type of bone marrow cancer, on Sept. 19, 2017, after Devils doctors noticed an abnormality in routine bloodwork during a training camp physical.
"A test looks for the leukemia cells in your blood and when I was first diagnosed, it was at 75 per cent," Boyle told NHL.com. "At the end of last season, it was at .08 per cent, and in July I was at .04 per cent. The results showed all zeros on Monday. It's fully molecular remission and I feel really good."
Boyle was reportedly told by doctors that it could take up to 18 months for the disease to go into full remission. For Boyle, it took 12 months and 33 days.
Boyle, 33, returned to the Devils' lineup last season on Nov. 1 – just six weeks after the diagnosis – and began one of the most productive seasons of his 12-year NHL career. He received chill-inducing ovations at All-Star weekend in Tampa Bay and collected 13 goals and 10 assists for 23 points on his way to receiving the 2018 Bill Masterton Memorial Trophy for dedication and perseverance.
Boyle was at the centre of one of the best stories in the NHL last season. He helped New Jersey to a surprise playoff appearance as the Devils went from dead last in the Eastern Conference to a first-round date with the Lightning.
This season, Boyle is off to a promising start with three goals and one assist in six games, to go along with the biggest win of his life – beating cancer.
Boyle said he will continue taking his medication and attend regular checkups with doctors to monitor his health.
"When I told my wife, she was excited and got emotional," Boyle told NHL.com. "The game plan has been working well and now I'm just going to continue with it. It was good news, but it doesn't change a whole lot for me and I'll continue taking the medicine."
---
Contact Frank Seravalli on Twitter: @frank_seravalli​