Devils lose first game to Backstrom, Caps
Nicklas Backstrom had a goal and three assists and the Washington Capitals knocked the surprising New Jersey Devils from the unbeaten ranks with a 5-2 victory Friday night.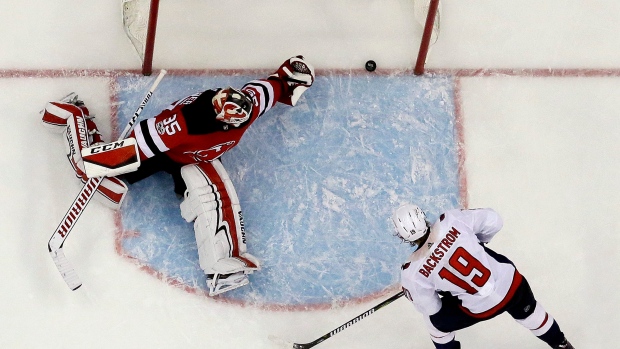 NEWARK, N.J. — The Washington Capitals have been the best regular-season team in the Eastern Conference the past two years, and they showed the surprising New Jersey Devils why.
Nicklas Backstrom had a goal and three assists and the Capitals knocked the upstart Devils from the unbeaten ranks with a 5-2 victory Friday night.
"Everybody pitched in," coach Barry Trotz said after the Capitals ended a 0-1-1 slide. "There were some great things that happened. We did a great job of managing their speed and limited them to not a lot of great chances. We had some good responses."
The Capitals got big games from all their stars.
T.J. Oshie had two goals and an assist, and Alex Ovechkin scored his ninth of the season and set up Backstrom's power-play tally to help Washington hand New Jersey its first loss in four games.
Jacub Vrana also scored for the Capitals, and Braden Holtby had 21 saves. Washington is 8-0-1 in its last nine games against New Jersey.
"The whole team played good tonight," said Backstrom, who has eight assists in his last four games. "We had better structure and we kept it together and played better defensively. When we play quick, it's hard for other teams to create chances."
Backstrom had a big game despite being hit in the head by a puck in the pregame game.
"Maybe someone should hit me with a puck before every game, Backstrom quipped.
Taylor Hall and Kyle Palmieri scored for the Devils, who had surprised many with their quick 3-0 start after finishing in the basement in the Eastern Conference last season. Cory Schneider made 23 saves, getting beat three times on the power play.
"It was our first time with adversity and we didn't do well," Hall said after scoring his first goal of the season.
The Capitals clearly were the better team in this one. They forechecked well and bottled up the Devils in the neutral zone, limiting an offence that had 16 goals in its first three games.
"I thought we got stubborn with the puck at times," Devils coach John Hynes said. "When you play against Washington, you see how teams like Pittsburgh have beaten them, going through them. They are able to push them back and put pucks behind them with speed. We didn't do that enough."
Backstrom set the game's first goal, intercepting a puck in the New Jersey zone after it came off defenceman John Moore's stick. He found Oshie coming down the middle for his fourth goal of the season with 5:11 left in the first period.
Ovechkin, who had seven goals in his first two games, scored from his office in the left circle on a power play after being set up by Backstrom 8:01 into the second period.
Hall scored his first of the season on a power play with 3:32 left in the second, but Vrana pushed the lead back to two goals, tipping a shot by former Devil Devante Smith-Pelly past Schneider with a minute left in the period.
Palmieri cut it to 3-2 with a backhander in close 53 seconds into the final period.
However, Pavel Zacha took a four-minute high-sticking penalty for cutting Lars Eller at 4:10. Oshie and Backstrom scored with the extra man to put the game out of reach.
Schneider said the Caps were patient on the power play.
"It's wait, wait, wait and they are hard to get the puck away from because they are so good," he said. "It's starts with Backstrom and all those guys possess it well. They just needed one shot on a couple of them. That's how dangerous they are."
UP NEXT:
Capitals: At Philadelphia on Saturday night.
Devils: At New York Rangers on Saturday night.
___
More AP hockey: https://apnews.com/tag/NHLhockey