Diminishing ice time leads to greater returns for Getzlaf and Perry
The Anaheim Ducks' dynamic duo remain as dominant as ever thanks to a better supporting cast and smart coaching, TSN's Travis Yost writes.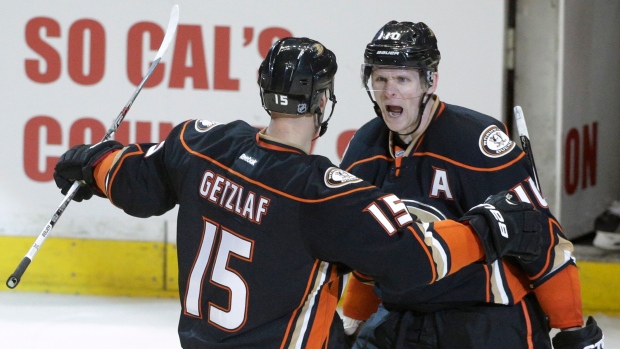 There has been ample talk about how the organization has transitioned out of the treadmill of mediocrity. Ryan Getzlaf and Corey Perry garner a lot of attention and rightfully so. When they're on their game, they form a top line that's virtually unstoppable. Their newish head coach gets a lot of recognition too. I've written about Boudreau in the past, and why I think he's one of the better coaches in the history of the game. Debate if you wish, but his track record is mint, and the team has flourished under his watchful eye.
But, between their high periods (a 2006 Stanley Cup, and present day), there was a lull. They still had that top echelon of talent, but little else to offer after that. And it manifested in their performance. From 2008 through 2012, the Ducks went as followed: eliminated in the semi-final, did not reach playoffs, eliminated in the quarter-final, and did not reach playoffs. It wasn't a terrible run, but it's probably not what you expect from a club who walks into every season with at least two of the league's preeminent talents.
During those years, the team leaned heavily on the likes of Perry and Getzlaf more than any team probably should. Having them on the ice can be intoxicating, but the lack of firepower behind them was likely more of a driver of their usage (and perhaps over usage).
The firepower issue was a real one. The organization recognized their lack of depth, and it was having a pronounced effect on their bottom line. Just look at how this team performed from a goal-scoring perspective over the last seven years (Boudreau was picked up in the middle of the 2011-2012 season):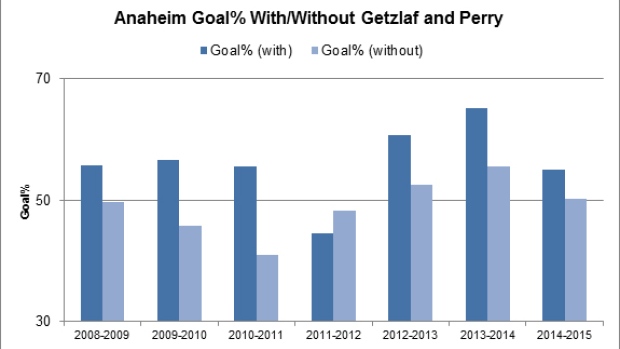 Generally speaking, you want your depth players to not get killed out there. If your second through fourth lines and second/third defence pairings can break-even in Goal%, you're usually sitting pretty. Even including that weird 2011-2012 season, the Getzlaf/Perry duo has been a staple of domination in the Western Conference, scoring about 57% of the even-strength goals against the opposition.
It's the depth that had proven problematic. The team's other forwards were getting tuned season in and season out, forcing the coaching staff to become ultra-reliant on the team's top line. Their non-core talent were leaking goals left and right (the 2010-2011 season was an utter disaster on this front), and though the top line kept humming along, the team could never skate with the premier talent of the Western Conference on the merits of one productive line.
Things have changed for the better in the last handful of years. The front office has done an excellent job of identifying and developing young talent to slide into crucial roles, many of whom have flourished in their spot minutes. In just a few years, they've nabbed the likes of Sami Vatanen, Cam Fowler, Rickard Rakell, Hampus Lindholm, Frederik Andersen from the draft. They've pulled off a couple of interesting trades with other draft picks – the most notable being recent swaps of Emerson Etem for Carl Hagelin, and Devante Smith-Pelly for Jiri Sekac. For my money, both of those trades are penciled in as Anaheim victories.
The talent procured by the front office has allowed Boudreau to clean up some of the overreliance on Getzlaf/Perry. You wouldn't know it from watching their games, but the ice-time of this fantastic duo has been dramatically (and I'd argue purposely) reduced from where it was in years past. Part of this is finding a comfort level with the team's depth talent, but part of this is also providing the team's core talent with a more appetizing plate of ice-time.
Here's how the ice-time has shaken out over the years – remember, Boudreau took over in the 2011-2012 season.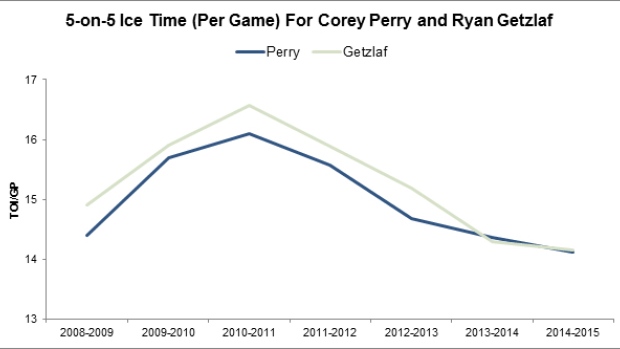 For a couple of years, Getzlaf was averaging over 16 minutes a night at even-strength. Perry wasn't far behind. Considering there are about four or five power plays a game and some potentially key penalty kill spots you want these guys out there for, you can see how their overall ice-time would build up rather quickly. You can also see how fatigue might start to set in for this group – both at an individual game level, and as the season progressed.
Boudreau's brought them down to a much more manageable 14 minutes a night at 5-on-5 – it allows them to do what they do best on special teams, and dominate shift after dominating shift at evens, knowing full well that they'll get a couple of very competent breathers when they change.
The Takeaway
There are only eight players league-wide who have seen their 5-on-5 ice time drop in four consecutive years. Ryan Getzlaf and Corey Perry make up 25 per cent of that list. They're still as dominant as ever, but they are no longer burdened with overly taxing ice time or the concern of the team crumbling every time they ended a shift. The front office has done an excellent job of building out the roster with talent, and the coaching staff has done an equally strong job integrating those players into the lineup.