'Disappointed' Keenum: Flacco trade 'definitely a shock'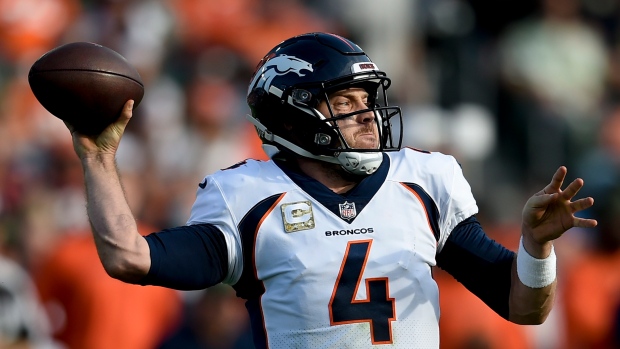 Denver Broncos quarterback Case Keenum says he was just as surprised as anybody upon the news that his team was acquiring Super Bowl-winning pivot Joe Flacco.
"It was definitely a shock," Keenum told the Sports Spectrum, faith-based podcast. "It was a surprise for us … For us, we're definitely disappointed. It's not something we wanted to happen. I know everybody is doing their job and [general manager] John [Elway] feels like it was a chance to help the Broncos out."
The trade cannot officially be completed until the start of the NFL's new league year on March 13, but it Flacco is set to usurp Keenum as the team's starter.
The 30-year-old Keenum struggled in the first year of a two-year $36 millon deal signed last spring following an MVP-calibre year with the Minnesota Vikings in 2017.
Keenum threw for 3,890 yards on 365-for-586 passing with 18 touchdowns and 15 picks. The Broncos finished the season at 6-10, third in the AFC West, and missed the playoffs a third consecutive season, costing head coach Vance Joseph his job.
If Keenum were to be cut, his deal would still carry a $10-million dead cap hit. Facilitating a trade for Keenum could save the the Broncos $18 million of the $21 million the player is owed this season.
For his part, Keenum understands his future is in flux.
"It's really open-ended right now," Keenum said. "We don't know what's going to happen. This is still very fresh. A lot of these emotions we're talking about are still going on and still happening. Who knows what's going to be in store. I don't, for sure."
Still, Keenum says he's enjoyed his time in the Mile High City.
"I know my time with the Broncos has been really special," Keenum said. "I've enjoyed every second of it. I have absolutely been so proud to wake up every day and walk into that building and call myself to represent the Broncos as their quarterback. I know the tradition and history the Broncos have at quarterback especially. It was an honor to represent them."
A native of Abilene, TX, Keenum is heading into his eighth NFL season, having also spent time with the Houston Texans and St. Louis/Los Angeles Rams.