DiVincenzo can hook up dad, a Bucks fan, with new gear
Donte DiVincenzo, drafted No. 17 overall by the Milwaukee Bucks in the 2018 NBA Draft, will have the opportunity to play for his father's favourite team.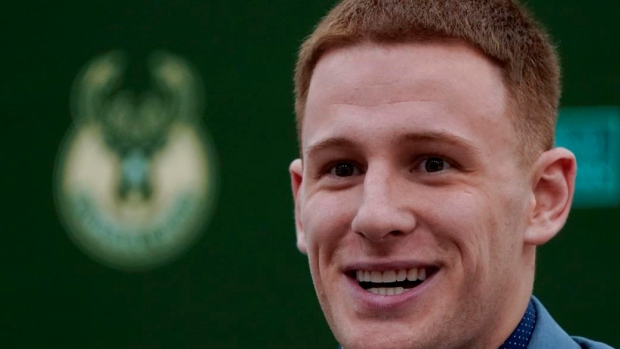 MILWAUKEE — Donte DiVincenzo's dad can dust off the old Milwaukee Bucks jerseys he used wear as a fan while he was growing up.
DiVincenzo will be able to hook his father up with some new gear soon, too.
The Villanova guard was formally introduced Monday in Milwaukee at the Bucks' downtown training facility. The team drafted him last week in the first round with the 17th overall pick.
The 6-foot-5 DiVincenzo gives the Bucks another 3-point shooter with size and toughness in the backcourt, skills that should fit well with All-Star forward Giannis Antetokounmpo's game.
The No. 9 Bucks jersey with DiVincenzo's name on the back will soon become the prized piece in the jersey collection belonging to his father, John. An old Ricky Pierce jersey was a favourite.
"I was seen in a Bucks jersey in Philly in my later years. I had mustard all over me. I don't know if you're familiar with how they roll there," the elder DiVincenzo said with smile at the Bucks' downtown training facility.
His son gets a clean start in the NBA following a distinguished college career.
DiVincenzo was a key member off the bench for Villanova's national championship team, scoring 31 points and hitting 5 of 7 from 3-point territory in the title game against Michigan, along with five rebounds, three assists and two blocks. The Big East's sixth man of the year also impressed at the combine with his 42-inch vertical leap, displaying athleticism that scouts crave.
A willingness to come off the bench and succeed in that role helped set him apart.
"It's just something that's pretty unique to have a young man who's willing to do that and make those sacrifices," Milwaukee coach Mike Budenholzer said. "I think Donte will learn, whatever role it is, however it plays out."
DiVincenzo said the adjustment to the pros should be easy after showing that he could thrive as a reserve in college.
"Just because I'm not coming in here with an ego. I'm not coming in here as the main guy on the national championship team," he said. "I'm just coming in here wanting to work, I just want to fit in. That's my goal."
That goal also includes fitting in with Antetokounmpo. DiVincenzo knows he must play hard and with energy with the high-flying forward, and knock down 3s to help open the floor.
"Just being able to knock down shots and him being able to look to his left and right and know I'm defending," DiVincenzo said.
Playing defence will be the quickest way for DiVincenzo to earn time in a crowded backcourt rotation. After showing a willingness in college to hustle and dive for loose balls, that shouldn't be a problem. It's just the way that he learned to play, said his father, who also coached middle-school basketball.
"I watched the young man grow up," John DiVincenzo said. "Diving on the floor is a norm for him."
The elder DiVincenzo was so fond of Milwaukee that he asked his son to bring home some Bucks gear after travelling to Wisconsin for a pre-draft workout. DiVincenzo brought home a white, long-sleeved Bucks shirt.
His excited and grateful father packed that same shirt with him as the family accompanied DiVincenzo for his first trip to Milwaukee as a member of the Bucks .
"I'm like, 'Dad, you're probably going to get gear,'" DiVicenzo recounted. "He's like, 'I don't care.'"
Note: The team's new arena is 98 per cent completed, according to team and construction officials. The Bucks will start playing in the new arena this fall. "This is all about the details now for the next few weeks," team President Peter Feigin said.
___
More AP NBA: https://apnews.com/tag/NBAbasketball