Division race gives Leafs-Sabres rivalry added edge
The Toronto Maple Leafs and Buffalo Sabres have a long-running rivalry rooted in geographic proximity. Now, for the first time in years, they're also close in the standings, Kristen Shilton writes.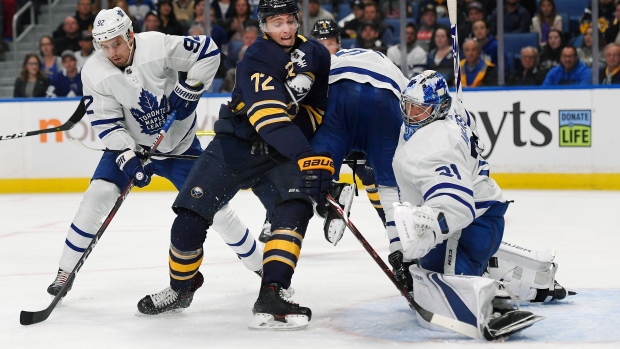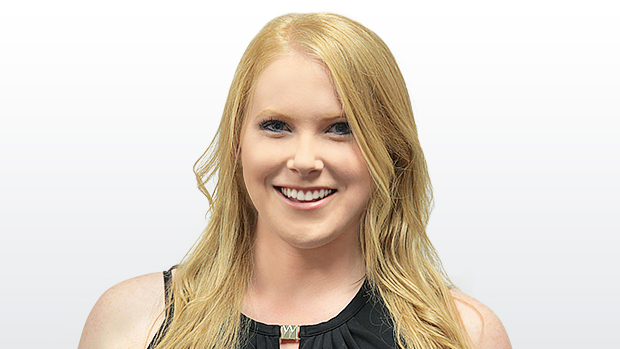 BUFFALO – The Toronto Maple Leafs and Buffalo Sabres have a long-running rivalry rooted in geographic proximity. Now, for the first time in years, they're also close in the standings.
Buffalo is one point back of Toronto in the Atlantic Division race going into their first meeting of the season on Tuesday, giving this matchup some added edge.
"The way we've started and they've started the season, and how tight the division race is at this point, there's a lot to play for," said John Tavares after the Leafs' optional morning skate on Tuesday. "They've been on quite a roll. [There's] a lot on the line and a lot of really good players and a lot of talent on both sides."
Tavares is new to the Leafs-Sabres dynamic, but spent chunks of his formative years in Buffalo watching his uncle, also named John Tavares, star for the Buffalo Bandits lacrosse team. He knows the city as a "really good sports town" that must revel in the Sabres owning a 15-5 record over the Leafs on home ice since January 2010.
It's been eight years, though, since Buffalo made the postseason, and now that the games matter more, Tavares anticipates the atmosphere will reflect it.
"They really care about their team, so you can expect they're going to be behind that and what they've been able to do to start the season," he said. "We have to be ready to play. It's fun playing in great environments like that, so it should be fun to play in."
Fun has been in short supply for the Sabres over the last week. Since their 10-game winning streak came to an end on Nov. 27, Buffalo has lost three straight, including a 2-1 decision to the Nashville Predators on Monday. Meanwhile, the Leafs have won four straight, and are 8-2-0 in their last 10.
Sabres' forward Kyle Okposo sees the perfect opportunity for his team to reset in front of a "loud and electric" home crowd on Tuesday.
"We have to take the fight to them. This is our building," Okposo said. "We've been playing pretty good at home, and we want to defend it. Their team speed and their transition game, they're able to get the puck from defensive to offence very quickly, so we're going to have to make sure we're staying on top of our checks."
One Leaf who is intimately familiar with how the Sabres operate is winger Tyler Ennis. He was with the organization from 2009-17, playing 419 games with 97 goals and 139 assists before departing as a free agent for the Minnesota Wild last season.
Ennis can well remember what made going up against the Leafs so special and why the fans were so invested in the outcome.
"These games are easy to get up for. There's such great energy in the building," he said. "It's noticeable how much the intensity and the noise of the crowd elevates [against Toronto]. We're good rivals from across the border, and I'm looking forward to being [on the other side]."
With William Nylander not quite ready to return to action after signing his new contract on Saturday and Josh Leivo dealt to the Vancouver Canucks on Monday, the Leafs have only 12 game-ready forwards. They will have to use them all in Buffalo, meaning Ennis will get Frederik Gauthier back as his centre on the fourth line, while Par Lindholm slides over to the wing.
Now in his fourth season coaching the Leafs, Mike Babcock has seen plenty of unfavourable decisions for Toronto at Buffalo's hand, but is always struck by how excitable the crowd is.
"Every time we've been here before there was a lot of energy in the building, a lot of Leafs fans," he said. "Now, pretty soon Leaf fans won't be able to buy tickets here because Buffalo fans will have bought them already. I've been impressed with their team."
That feeling is mutual for Auston Matthews, who will play his third game back from a shoulder injury on Tuesday. The centre, who has three goals and one assist in his last two games, is eager to see how Toronto stacks up against one of their closest competitors.
"They've been playing some really good hockey lately," Matthews said. "…It's going to be a good challenge for us. It's a good rivalry, going to be a good atmosphere. I think everyone is looking forward to the game."
Maple Leafs projected lines versus Sabres:
Forwards
Hyman-Tavares-Marner
Marleau-Matthews-Kapanen
Johnsson-Kadri-Brown
Lindholm-Gauthier-Ennis
Defence
Rielly-Hainsey
Gardiner-Zaitsev
Dermott-Ozhiganov
Goalies
Andersen starts
Sparks