Domi battling the odds everyday
Max Domi was diagnosed with diabetes at the age of 12. The son of former tough guy Tie Domi and top-level prospect of the Arizona Coyotes has been defying the odds his entire life. The 20-year-old sat down with TSN.ca on Tuesday to discuss his initiative to spread diabetes awareness as he prepares to embark on his NHL career this season in Arizona.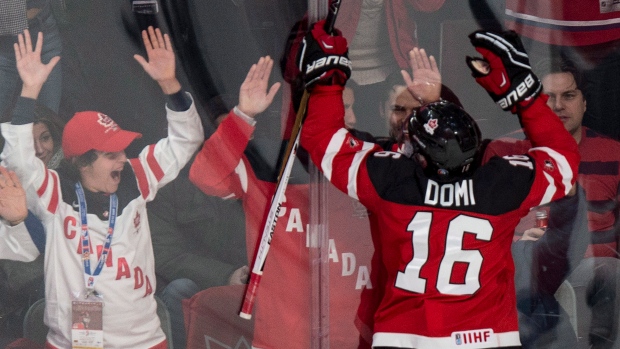 A 12-year-old Max Domi was on his way home to Toronto from a minor hockey tournament in Detroit when he started to feel weird.
Every five minutes he had to get his mother, Leanne, to pull over either for a bathroom break or a drink as his thirst was constant.
Something was up.
"She [his mother] was like 'what's going on with you? Let's get you checked out,'" Domi told TSN.ca on Tuesday. "So I went to my doctor, he ran a whole bunch of blood tests and said 'hey, listen you got to go down to Sick Kids (hospital), you're a diabetic."
Domi, the son of former Toronto Maple Leaf tough guy Tie Domi, is a part of a small group in professional sports – elite level athletes with Type-1 diabetes.
When Domi, now a top prospect for the Arizona Coyotes, was first diagnosed eight years ago, he didn't really know what diabetes was.
"It really shows you how little people know about the disease. It's such a complex disease," said the 20-year-old. "You don't realize that it's not easy to deal with, but it's definitely manageable if you have the intangibles to do it and everyone has that. The doctors, your friends and your supporting cast really makes that a lot easier."
Domi has teamed up with Bayer Canada and their Powered by Accuracy initiative to spread the word on having a high performance lifestyle with diabetes.
"The last couple years I've been trying to reach out as much as I can and show people that you can do whatever you want. It's not going to hinder your performance at all," explained Domi. "Doctors are unbelievable and they're the best people in the world to show you what to do, but at the end of the day there's nothing more rewarding than hearing advice from another diabetic himself, especially if it's a young hockey player."
Domi spent his four-year Major Junior career with the London Knights, winning back-to-back OHL titles in 2012 and 2013 and capturing gold for Canada on home soil at the World Junior Championship earlier this year.
He has to test his blood 12 times a day, including before, after and in between periods during games. Instead of injections, Domi has a pump that delivers insulin to his body when needed.
"The technology nowadays is absolutely incredible. Stuff like the meter, it's incredible, and it's so accurate. My pump is like having an artificial pancreas to a sense," he said.
Domi has found inspiration in former Philadelphia Flyers captain Bobby Clarke, one of the toughest guys in hockey history and a fellow diabetic. The Coyotes prospect didn't know who Clarke was when he was first diagnosed, but thanks to his father and a TV feature on Clarke, Domi became his number one fan.
"It was so ironic because it was on the TV in the waiting room. This guy is unreal. I started to research him, looking up to him and changed my number to 16 too," explained Domi.
"For him to be able to do that stuff back then, it just makes it that much easier for all of us living with it now."
Taking The Next Step
NHL training camps get underway next month and Domi says he's ready to take the next step of his career after amassing 126 goals and 331 points in 244 games in junior.
Domi was disappointed after he was sent down from last season's NHL camp, but was motivated to put in a solid year with the Knights after a one-on-one conversation with Coyotes head coach Dave Tippett.
"You always think it sucks when you get sent down to junior for the rest of the year, said Domi.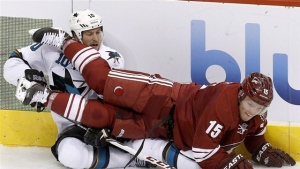 "I remember Dave Tippett, I'll never forget it, and he said to me 'this year is going to be up to you. If you want to get better, you're going to get better. If you don't, then you're going to status quo and you're not going to become an NHL hockey player. Although you feel you might not need to do anything, you're going to have to work on something every single day.' So I took that and talked to my coaches about it and every single day I tried to get better."
Domi went on to have his best season in London, scoring 32 times with 70 helpers and 102 points.
As for the ownership situation in Glendale, Domi says he hasn't followed it too much and is just preparing to make the 2015-16 Coyotes.
"Everyone is pretty confident the team is going to stay in Glendale and as far as we are concerned, we are a team in the desert."