Domi eyes playoffs for Coyotes
Max Domi played a prominent role with the Arizona Coyotes in his first NHL season. Now, he's ready to take the team further.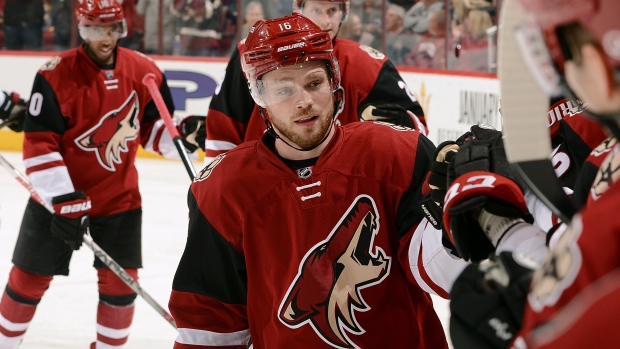 Max Domi played a prominent role with the Arizona Coyotes in his first NHL season. Now, he's ready to take the team further.
After a rookie year that saw him finish second on the team in points and fourth in goals, Domi plans to take what he learned and apply it to the upcoming season.
"Overall it was a blast," Domi told TSN.ca of his first professional season. "I learned a lot, especially from my teammates and coaches and you realize how long of an 82-game-season grind it is. It's definitely a mental grind and also a physical grind."

Coyotes Point Leaders - 2015-16
"We came a little short of the playoffs, so it's definitely a learning experience and something we'll put in our back pocket and just move forward," Domi added.
The Coyotes finished the regular season 35-39-8, fourth in the Pacific Division and nine points out of the final wild card playoff spot. Domi believes the team is ready to take the next step and reach the postseason for the first time since 2012.
"There's no reason we can't," said Domi. "We came out of the gates pretty hot this year and we beat some high-end teams but when the nitty gritty comes down to it, you gotta be able to win after the All-Star break — that's when it really matters. Finding a way to find that consistency and manage that throughout an 82-game season will be pretty clutch for us and there's no reason we can't do it."
The Coyotes promising start last season included opening 13-9-1 and a 24-20-5 record at the All-Star break. However, the young team limped to the finish line with an 11-19-3 record in their final 33 games to end the year.
Sensing a need for help blueline, Coyotes general manager John Chayka added defencemen Alex Goligoski and Luke Schenn during the off-season, two players Domi believes will have an immediate impact on the team.
"It's amazing," Domi said of the additions. "I mean our D core is pretty solid. Goligoski is unbelievable, I had to play against him quite a bit when he was in Dallas and Luke Schenn, I watched him when he was with the Leafs and played against him a little bit this year too in L.A. Both of those guys are going to be outstanding and the other new guys we got are going to be awesome too."
Other Coyotes signings included bringing in 20-goal scorer Jamie McGinn and re-signing captain Shane Doan to a one-year, $5-million pact. Domi hopes that Doan's new contract won't be his last in the desert.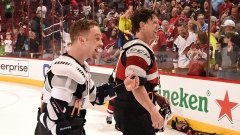 "He's one of the best people I know, not just in hockey or sports, just in general," Domi said of the 39-year-old veteran. "He's a really special person, great family and he helps us all out. Not just the young guys, he helps the older guys out too. He's what drives our whole organization essentially and we knew he was going to come back for another year, but it's nice to have that locked in that he's coming back. It's exciting and hopefully he'll play a couple more."
While the Coyotes used the off-season to improve their roster, Domi is using his to improve his individual game. Despite his success as a rookie, the 21-year-old says he has plenty of places to improve.
"Pretty much everywhere," Domi said of where he could improve in his sophomore campaign. "As a young player, you should always be pretty hungry to grow and to improve your game in every aspect, whether it's your D-game, your offensive abilities, your power play, your penalty kill, whatever it may be. You can always find something to work on.
"That's been the best part of the off-season, that's a time period where you can work on all that stuff."
Raising Awareness
Domi has also used his off-season to team up with Contour Next, a line of blood glucose monitoring systmes, to continue to raise awareness for type 1 diabetes, a disease he has suffered from since the age of 12. Domi's latest project, PoweredByAccuracy.ca, is a website focused on sharing the stories of people living with diabetes.
"You want to learn from other people who are succeeding in whatever they're trying to do and still managing their health at the best level possible," Domi said of the initiative.
For every visit the website gets, Contour Next will donate $1 to a maximum of $21,500.