Donaldson, Jays not in the 'same ballpark' on new contract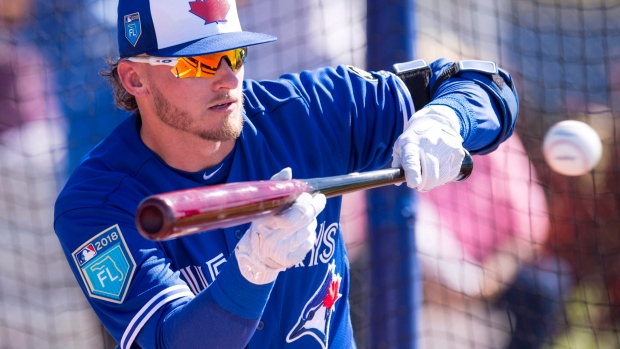 DUNEDIN, Fla. — Josh Donaldson has one chance to break the bank and secure his long-term future.
He's in no rush to give that up.
The Blue Jays star third baseman made that clear Monday in Florida, revealing GM Ross Atkins has indeed touched base about a contract extension to stay in Toronto.
But in the opinion of Donaldson and his agent, it wasn't in the "same ballpark" and didn't promote much of a discussion at this point.
To use another baseball analogy, he's looking to hit a home run, and contract talks with the Blue Jays have been put on the back-burner for now.
"There really hasn't been numbers, per se, any definite type of numbers that have been thrown around, but we've had conversations about it and I just think that we are not quite there," Donaldson calmly stated Monday following the team's first full workout of the spring.
"We're just not there. We're not at the same type of area, the same ballpark to make a discussion to moving forward. To me, it's just not that big of an issue to focus on it right now or throughout this season because I don't feel like the time is right at the moment."
Even though the term of any potential contract looks like it's going to be a significant hurdle, Donaldson admitted talks could restart at any point, so he's not about to play out the string for $23 million this season without listening if the Jays table an offer that interests him.
Asked if he expects to become a free agent nine months from now, he simply said, "Yes."
Then he added a glimmer of hope for Blue Jays fans hoping No. 20 returns.
"But that's not saying that talks between the Blue Jays and I won't ramp up again at some point, because I believe they will," Donaldson said.
Similar to his mood last month at Winter Fest in Toronto, Donaldson seems at ease and he's more than willing to be patient.
What has transpired on this year's free-agent market has allowed him and his agent, Dan Lozano of MVP Sports Group, to sit back and take a good look at what the future could hold.
Some thought that could mean taking a long, hard look at an extension if the uncertainty scared them.
Quite the opposite, it seems.
Donaldson indicated they think it'll be different next winter in a loaded free-agent class alongside the likes of Bryce Harper and Manny Machado.
"The way this free-agent market has went this year, I don't think it would be the smartest decision to try to make a discussion, because with what's led up to right now I, personally, do not believe is going to be what the market is going to be next year," Donaldson said. "You're going to have a very good free-agent class and we'll see what happens, but as of right now, my camp and I, we have our views, and it hasn't shifted."
So many factors muddy a potential Donaldson extension for the Blue Jays.
A late bloomer who didn't become a regular, let alone a star, until the age of 28, this is Donaldson's chance to secure a nine-figure contract that will take him into his twilight.
Because of that, it's hard to imagine the 32-year-old taking anything less than five years, which would take him through his age-37 season.
But those are the types of contracts general managers have been trying to avoid over the past couple of winters.
Up to this point, the Mark Shapiro/Atkins-led regime has seemed unwilling to commit huge money or term to that type of player on the free-agent market.
Donaldson, however, is a still-elite former MVP who expects to play well into his mid-thirties and beyond, saying he feels he has "several more years of performing at a high level" in him.
"I think it's silly that people do say, 'Hey, a guy can't play past 36, 37,' because I see guys that are still doing it," Donaldson said. "It's not as many and I don't think that everybody can, I think it's more of an individual basis and you have to really focus on a) what the guy's bringing to the table each and every day, and I think injuries are a big part of it.
"Where I kind of disagree with people is they kind of throw everybody in the same jar."
Donaldson gets the sense the Blue Jays want him back.
"I believe they want me," he said. "If they didn't want me, we wouldn't be having any type of discussions leading up to this point."
On the same day Donaldson announced talks had stalled and he wasn't going to address them in the media from this point forward, the Boston Red Sox signed 30-year-old J.D. Martinez to a front loaded five-year, $110-million deal.
If a player the Red Sox plan to DH is worth $22 million per season — the three-year age difference at the time they hit free agency will likely factor more into the term than the dollars — Donaldson is surely worth quite a bit more, especially if he goes out and tears the cover off the baseball and plays 150-plus games, which he had done in four-straight seasons prior to 2017.
Donaldson was worth 5.0 fWAR last season in 113 games, while Martinez accumulated 3.8 fWAR in 119 games.
After hitting 33 homers in just 496 plate appearances, Donaldson is out to prove last year was a blip on the durability radar, something that would help both him next winter and the Blue Jays this summer.
"That is one reason, for sure," Donaldson said of staying healthy this season for the purpose of putting those questions to rest heading into free agency. "Second reason is I know the more that I'm on the field, the better chance our club has of winning, and that's the most important reason."
The contract is the front office's off-the-field problem.
On the field and in the clubhouse, manager John Gibbons expects to have an MVP candidate leading his offence, and he scoffed at the idea the situation could become a distraction.
"He's probably the most motivated guy I've ever been around, in his own way," Gibbons said. "I think the fact that he's a free agent at the end of this year is only going to help him.
"I would think it would probably bring out the best in him."​