Dorion optimistic Sens will re-sign Turris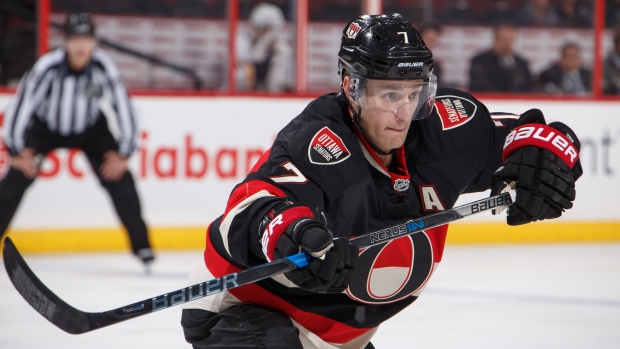 The Ottawa Senators and Kyle Turris struggled to find common ground in extension talks this summer, but general manager Pierre Dorion is optimistic he won't have to part ways with the centre.
"We're really working hard - both parties - towards a contract and I think the way that Kyle has played over the first three games of the year, especially (Tuesday night) getting that (shootout) goal right under the blocker side almost under the bar shows us that Kyle is a special player for us," Dorion said. "To us, there's no panic, there's still eight months before he's a UFA so we have a lot of faith that we can get something done."
"It's been heading in the right direction since (we) started the talks," Dorion added.
TSN Hockey Insider Darren Dreger reported last week the two sides appeared to be headed for an in-season split. According to Dreger, Turris is seeking a seven or eight-year term and the Senators are not looking to sign the 28-year-old into his mid-30s. He reported his sense was a trade before the February deadline seemed like the most likely outcome.
"There has been a fair bit of dialogue between Senators management and the agent who represents Kyle Turris, dating back to early July or late June." Dreger said. "Kyle Turris wants to commit long-term to the Ottawa Senators, we're talking about a seven or eight-year term. So far, the Sens haven't been willing to do that, so they cannot allow an important piece like Kyle Turris to walk out as an unrestricted free agent.
"The issue is, how do you replace him?"
Turris owns one assist through three games this season and is averaging 21 minutes of ice time per game.
He scored a career-high 27 goals and posted 55 points in 78 games with the Senators last season. He scored four goals and added six assists while averaging 21:19 of ice time per contest in 19 playoff games.
The New Westminster, B.C., native is entering the final season of a five-year, $17.5 million ($3.5 million AAV) contract extension signed in 2012. According to CapFriendly, the Senators have $59 million in salary committed to the 2018-19 season with Turris, Mark Stone, Cody Ceci, Johnny Oduya, Chris Wideman and Fredrik Claesson all up for new deals.