dos Anjos beats Lawler by unanimous decision at UFC Winnipeg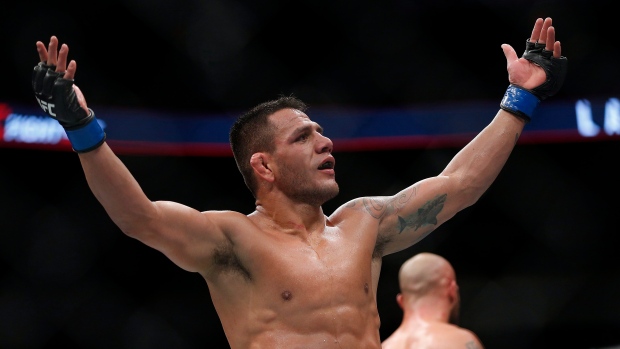 WINNIPEG — Rafael dos Anjos limped up to the stage and had a line of blood trickling down his neck. And he was the winner.
Dos Anjos claimed his third straight victory as a welterweight with a unanimous decision over Ruthless Robbie Lawler in the headliner UFC Fight Night card in Winnipeg Saturday.
The Brazilian won the five-round bout with scores of 50-45 by each of the three judges in front of 8,862 fans at Bell MTS Place.
"It was 25 minutes of war," dos Anjos, 33, told reporters, adding his legs were sore but not injured.
Lawler didn't seem to fare as well. He was really limping and gingerly lifted his right leg onto the stage.
He said he didn't have details on the extent of his injuries and wouldn't reveal when in the fight it happened.
"It doesn't matter," Lawler, 35, said. "(Dos Anjos) did a great job out there, just wasn't my night."
Dos Anjos (28-9) said he targeted Lawler's legs. Late in the second round, the Brazilian also put a flurry of punches on Lawler. He sent Lawler (28-12) to the mat in the third and banged his head with his forearm until the bell rang to end the assault.
Dos Anjos moved up a weight class earlier this year and won his first two fights at the new level. Now he wants a title fight with welterweight champion Tyron Woodley, who was in Winnipeg doing commentary for the Fox TV fights.
Woodley announced earlier this month he's going to have shoulder surgery. Dos Anjos said he'll wait for him.
"I told him that I had to tell him face to face that I'm not interested in his Gucci belt. I want the UFC gold belt," dos Anjos said of his post-win interview with Woodley.
In the other fights on the main card, Josh Emmett sent fellow American Ricardo (The Bully) Lamas crashing to the mat 4:33 into the first round with a knockout left hook to the chin.
Emmett was 2.5 pounds over 146 at the featherweight weigh-in and had to give up 30 per cent of his purse to the No. 3-ranked Lamas (18-6), who hails from Chicago.
The Californian (13-1) was a replacement for the fight and only had three weeks to make weight. He apologized inside the octagon that he never made the weight and thanked Lamas for taking the fight.
Argentinian Santiago Ponzinibbio (27-3), who fights out of Florida, won a unanimous decision (29-28 in each of the three rounds) over Mike Perry (11-2) from Flint, Mich., in a bloody welterweight clash.
Canadians competed in five of the 11 fights, with only one loss.
That defeat was taken hard by Toronto light-heavyweight Misha Cirkunov (13-4), the only Canadian on the main card.
Cirkunov slammed his fists to the mat in frustration after his bout against American-based Brazilian Glover Teixeira was stopped 2:45 into the first round by technical knockout. The No. 3-ranked fighter put Cirkunov in a choke, but the Canadian rolled out of it with Teixeira still on top of him, pummelling his head with his fists.
It was the second straight fight Cirkunov has been knocked out in the first round. He lost 26 seconds into a bout May 28 against Volkan Oezdemir of Switzerland.
Canadians were 4 for 4 on the preliminary card.
Nordine Taleb, who fights out of Montreal, knocked out England's Danny Roberts 59 seconds into the first round of their welterweight bout with a punishing head kick followed by a heavy punch to the same side of the face. The 36-year-old moved his record to 14-4-0.
Chad (The Disciple) Laprise of Chatham, Ont., also had a first-round victory with a technical knockout over England's Galore Bofando in their welterweight fight (14-2-0). Laprise has won three straight fights with knockouts.
John (The Bull) Makdessi of Halifax, N.S., (15-6-0) defeated American Abel Trujillo in a unanimous decision after their three-round lightweight fight. Makdessi scored 30-27 in each round.
Alberta's Jordan (Young Gun) Mein bumped his record up to 30-12 with a unanimous decision (30-26, 30-27, 30-27) over Brazilian Erick Silva in their welterweight bout. It was the Lethbridge fighter's first win after coming out of retirement and losing twice.