Doughty on Kings: 'It's pathetic, embarrassing'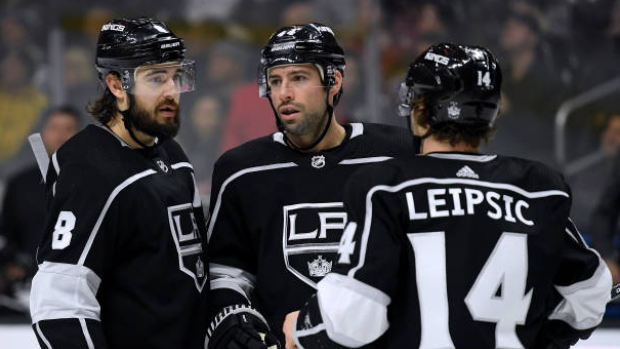 The Los Angeles Kings dropped to 10-18-1 on the season with Thursday's loss to the New Jersey Devils and sit last in the NHL with just 21 points through 29 games.
Kings defenceman Drew Doughty dropped to minus-9 on the season in the loss and pointed to the team's compete level as their most significant problem.
"I don't really have too much to say," Doughty told the Los Angeles Daily News. "It's pathetic, it's embarrassing, it's frustrating. It's one thing to lose games when guys are competing; you can live with that. And you can live with doing good things.
"But when we're not playing well, we're not competing, you can't live with it and we haven't lived with it since it started happening. It's going to take everyone to get us out of this, not just three or four guys."
Doughty continued when asked to expand on his comments about competing.
"No," he said. "You see some guys playing physical. Bottom line is, L.A. Kings have to be a physical hockey team – we're not as skilled as other teams, that's just the bottom line. We have to be a physical team, we have to be a hard team to play against.
"We have to have teams come in here and be like, 'Oh, no, we've gotta play the Kings again in their arena,' you know what I mean? I don't see enough physicality from our team, I don't see enough compete."
The Kings, who were swept in the first round of the playoffs last spring, have lost four of their past five games and own the second worst goal differential in the league at minus-28.
"How are we losing to these teams?" Doughty said. "It's not acceptable."
Interim head coach Willie Desjardins called the comments by Doughty "fair."
"Yeah, I think they're fair comments," he said. "We had a bad start to the second period, I thought we let them get going a little bit. We got a power play in the third and didn't get anything on it, they got a power-play goal, so it seems like a little bit the same story.
"They certainly had the breaks going their way tonight."
The Kings, who are currently 12 points back of final wild-card spot in the Western Conference, will host the Vegas Golden Knights on Saturday night.