Dragic, Green star as Suns beat Timberwolves
Goran Dragic scored 21 points, Gerald Green added 19 and the Phoenix Suns sent the Minnesota Timberwolves back to their losing ways with a 110-99 victory on Friday night. Green got his 19 in 24 minutes after going scoreless in just eight minutes on the floor in the Suns' win over Cleveland on Wednesday night.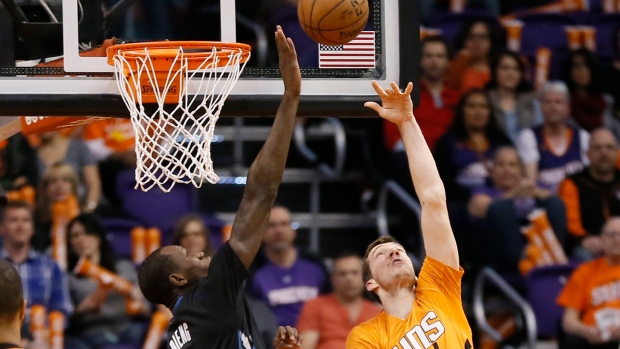 PHOENIX - Gerald Green got his groove back for Phoenix and the Suns returned the Minnesota Timberwolves to their accustomed spot on the wrong side of a final score.
Goran Dragic scored 21 points, Green added 19 and the Suns beat the Timberwolves 110-99 victory on Friday night.
Mo Williams, after scoring a franchise-record 52 on Tuesday when the Timberwolves beat Indiana to snap a 15-game losing streak, scored 26 on 10-for-22 shooting against Phoenix.
The Suns gave Williams special attention.
"They trapped me every time," he said. "They had a game plan and I just had to make plays out of it."
Green got his 19 in 24 minutes after going scoreless in just eight minutes on the floor in the Suns' win over Cleveland on Wednesday night.
"He got things going," Timberwolves coach Flip Saunders said. "He made shots and he changed a game that was a close game into a basic game where we were trying to play catch-up."
Eric Bledsoe added 16 and Brandan Wright 11 for the Suns, winners of five in a row at home and 2-0 on their franchise-record, eight-game homestand.
"We got a long home stretch right now so we're going to try to win them all," Bledsoe said. "Games like this we need, and to win them big and get everybody rested for the next game is huge."
Anthony Wiggins scored 17 for Minnesota.
Phoenix led virtually the entire game but Minnesota stayed within striking distance until the Suns opened up a 16-point lead in the fourth quarter.
"We finally got some stops," Suns coach Jeff Hornacek said. "Gerald hit a couple of 3s there and kicked it (the score) back up there. We would've liked to maybe have done it earlier, but we got a lot of guys in tonight, which is good."
Eleven players scored for the Suns, who have won 12 of their last 16.
Minnesota has lost 16 of 17.
"We hung in there," Saunders said. "Their physicality took over and we had some empty possessions both offensively and defensively and Green did to us what he did to us a week ago in our place."
Green scored 21 in Phoenix's 113-111 win at Minnesota on Jan. 7.
The Suns led nearly the entire first half and, after a 15-2 run, were shooting 60 per cent and up 59-48. But Phoenix committed five turnovers and shot 1 for 6 over the final 3 minutes of the half and an 8-2 spurt cut the Suns' lead to 59-56 at the break.
"We didn't close the first half good," Dragic said "They stole our momentum a little bit but in the third quarter we played decent, then we made that break."
Marcus Morris and Isaiah Thomas scored four apiece in an 11-1 run that gave Phoenix an 86-73 lead with 58 seconds left in the third quarter. It was 86-75 entering the fourth.
A pair of 3s by Green and a fast-break dunk from Wright put the Suns up 102-86 with 6:38 to go. Minnesota never got closer than nine again.
TIP-INS
Timberwolves: The Wolves are 3-16 on the road and 3-16 at home. ... Minnesota was without forward Shabazz Muhammad for the third straight game with a strained outer oblique. ... The Wolves made their first eight shots, then were 4 for 17 the rest of the first quarter.
Suns: Fan Sean Clair won $5,000 for sinking a shot from halfcourt. First, he made one from the free throw line, then a 3-pointer and finally his halfcourt heave. He never missed. ... Phoenix shot 55 per cent, its second-highest of the season. ... The Suns don't play a road game until Jan. 31 (at Golden State). ... Dragic scored 13 in the first quarter, six on rebound baskets.
UP NEXT
Timberwolves: Visit Denver on Saturday.
Suns: Host the Los Angeles Lakers on Monday.