Dreger: 'Status quo' for Nylander, Leafs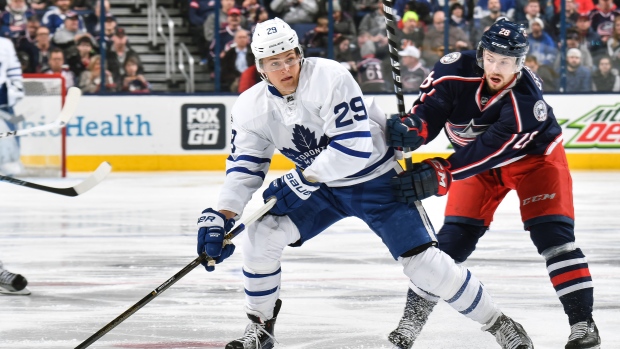 The clock is ticking on the Dec. 1 deadline for William Nylander to sign a contract in order to play this season, but TSN Hockey Insider Darren Dreger reports the restricted free agent does not appear any closer to reaching a deal with the Toronto Maple Leafs.
"Status quo is what I get on a day-by-day basis," Dreger told First Up on TSN Radio 1050 Toronto on Tuesday.
Nylander will miss his 15th game of the season on Tuesday night when the Maple Leafs host the Vegas Golden Knights. Dreger said last week that "a pretty wide gap" still existed in both term and money between the Leafs and Nylander.
The two sides appeared to be progressing towards a deal last month after general manager Kyle Dubas travelled to Switzerland for a one-on-one meeting with Nylander on Oct. 17 and Dubas was spotted in New York speaking to Nylander's agent the following weekend, but things seemed to have gone cold.
As of last month, the 22-year-old was believed to be looking for a salary above $8 million on a long-term deal, while the Maple Leafs reportedly countered with an offer around $6 million.
TSN Hockey Insider Bob McKenzie said last week frustration appeared to be building on both sides, though the Leafs still did not want to trade the winger at that time.
"Last week at this time there was positivity, relatively speaking," McKenzie said on Insider Trading on Oct. 30. "There was momentum building, there was dialogue. Then nothing happened and here we are a week later and there seems to be a lot of frustration and tension on both sides.
"The question is going to be asked: Are the Maple Leafs any closer to trading Nylander because they can't sign him? And the answer at this moment is no, not necessarily. But I can tell you this: with each passing day Nylander isn't signed, there's going to be an uptick in the number of teams that contact the Maple Leafs. And it may become more attractive for the Leafs to at least listen to what's being pitched from these teams that are starting to gather."
TSN Hockey Insider Pierre LeBrun noted, however, that if the Leafs can't sign Nylander, it's possible that another team would face the same problem upon acquiring him.
"They're hardly the only team but the Carolina Hurricanes continue to be a team that is keeping a close eye on the situation. They really like Nylander, and they'd like to add a top-six forward.
"The reason the Hurricanes are a good fit is they're deep on defence. We've mentioned the name Brett Pesce who's on a long-term deal at a reasonable cap price. I think the Leafs also view Carolina deep down as a team that if they ever open that door, they would probably have to contact.
"The point I would make though is if the Leafs can't sign Nylander, why would Carolina be a candidate to sign Nylander?"
The Leafs are 9-5 this season without Nylander, who scored 20 goals and posted 61 points last season.