Drouin ready to play centre again this season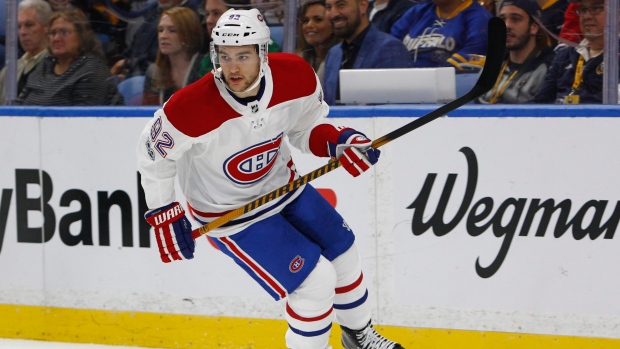 Jonathan Drouin appears to be pencilled in to play centre for the Montreal Canadiens once again this season, but the 23-year-old believes he's better prepared for the challenge.
"It looks that way for sure," Drouin told The Montreal Gazette when asked if he'd be playing down the middle. "I don't make those decisions, but that's where I played last year and I feel comfortable coming in this year and knowing that I'm playing centre."
Acquired last summer from the Tampa Bay Lightning for defenceman Mikhail Sergachev, Drouin scored 13 goals and tallied 46 points with a career worst minus-28 rating in his first season in Montreal.
Drouin told the Gazette, however, that he began to find his stride late in the season and will look to build off that momentum.
"The last 25, 30 games, I was having fun playing centre," Drouin said. "I was enjoying it. I was winning more faceoffs and that's important because if you win the faceoff, you have the puck and it's easier to play."
Drouin, who spoke to the Gazette while playing in Kris Letang's charity hockey tournament, said he's put an added focus on his conditioning ahead of this season.
"I took some vacation time to relax and get away from the city, but it's back to the training," Drouin said. "Last year I came into camp a little bit heavy and I was adjusting to the centre position. I really didn't know how to prepare for it. Now, it's easier for me, having played the position last year. I know what I have to do.
"It's a combination of strength and quickness. Sometimes you have a big guy and you have to play a heavy game. I definitely have to play with more speed than I did last year. You have to have a balance so you can play that heavy game, but you also need speed."
Drouin is expected to part of a centre group that includes Phillip Danault, Tomas Plekanec, Jacob de la Rose and Matthew Peca.