Dubas talks captaincy, contracts and Babcock with Bob McKenzie
With training camp set to begin next week, TSN Hockey Insider Bob McKenzie sat down for an interview on Wednesday with Toronto Maple Leafs general manager Kyle Dubas to talk about the team's upcoming season.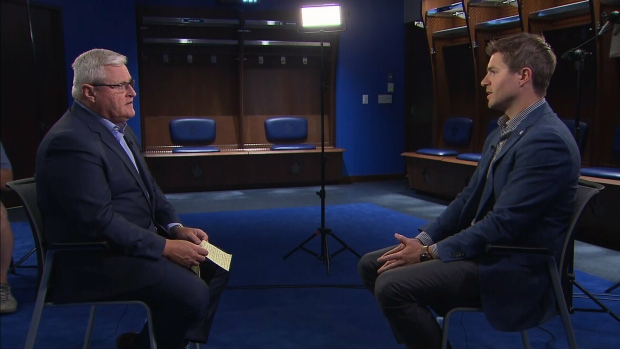 An elite centre playing for his hometown team in his prime.
A core of young players that is the envy of almost every team in the National Hockey League.
A new, young executive leading the front office with progressive ideas.
And a serious shot of breaking a 52-year Stanley Cup drought.
This season - more than any in recent memory - is one to keep a close eye on for the Toronto Maple Leafs.
With training camp set to begin next week, TSN Hockey Insider Bob McKenzie sat down for an interview on Wednesday with Maple Leafs general manager Kyle Dubas to talk about the team's upcoming season.
Here are a few segments that stood out in this extensive chat, with clips of the extended interview that are viewable worldwide.
Bob McKenzie: The Toronto Maple Leafs did not have a captain last year, will they have one this year?
Kyle Dubas: Not from the outset, I think. It's a very important honour to be the captain of the Toronto Maple Leafs - or any team that has a strong history. Though I've been in the organization - and this will be my fifth year - the way that I look at it is, I want to get into it day-to-day with these people and see who's best suited to handle that if we do determine that we need somebody to handle that. If we feel we have a void in leadership because we don't have a formal captain, that's something I think we can address. I do think we have excellent leadership in the room - Patrick Marleau and Ron Hainsey being the veteran leaders and adding John Tavares certainly helps - he has experience as a captain, as does Patty.
We hope that all of our young players - whether it's Morgan Rielly, William, Jake Gardiner, Auston and Mitch to evolve as leaders as well. I don't put a huge amount of emphasis on it, I've always thought that in studying teams, they're always best when they are patient with naming their captain and not rushing to name somebody and then having to make a move later to take it away with all the drama that can come with that.
McKenzie: William Nylander - a restricted free agent - doesn't have a contract, training camp's a week away. What's the latest?
Dubas: There's a lot of teams in the league that have players in these situations. We're continuing to work towards a solution and I'm confident we'll get there. We're not going to get too deep into our situation with any player that we have and their contract status. We'll have some news on that when we have it.
McKenzie: With or without a contract, do you expect him here to start training camp?
Dubas: At this point, I haven't put much thought into it. I would think, like most players, if training camp were to start and there were no contract, that the player and his representative would elect not to attend. But I haven't had that discussion with them at all - I'm just surmising based on history.
McKenzie: With a player like Nylander - and we'll get to Auston Matthews as well - bridge deal? Long-term deal? Either one a possibility? Is there a preference from your end?
Dubas: I think the mechanics of it relative to the salary cap are always important and on a longer term deal, the players are of course giving up more of their bargained rights in terms of unrestricted free agent years and thus their pay relative to our salary cap goes higher. We always have to keep that in mind and realize how it fits into our puzzle. But on all of them, we envision them - regardless of their contract in the immediate sense - believe that they're all long-term parts of our team and we hope they'll be here for their whole careers if we continue to work towards that.
McKenzie: Auston Matthews, Mitch Marner - they each have a year left in their contracts - they're eligible for an extension now. What's the likelihood that one or both of those guys will have a new multi-year deal in place before the season begins?
Dubas: I wouldn't say it's all too likely, we've had good discussions with all of them, with both Mitch and Auston and their people and these are the types of things - because there's no real immediacy to it - they both have another year left on their contracts, everyone's excited for the season...it's been a very patient process on all parts and that's more from the team than it is from the players. We believe that if a player is going to commit that long to a team in a long-term agreement, that we want them to be fully comfortable and aware of what they're getting into. That's the approach that we've taken with them and with (Matthews' agent) Judd Moldaver and (Marner's agent) Darren Ferris, respectively, on Auston and Mitch.