Duchene: 'I wasn't traded for Turris'
While Matt Duchene has just five points since his Nov. 5 trade to the Senators, Kyle Turris, sent to the Nashville Predators as part of the three-team deal, has four goals and 17 points in 18 games since being moved. Duchene, though, is not interested in comparisons between the two.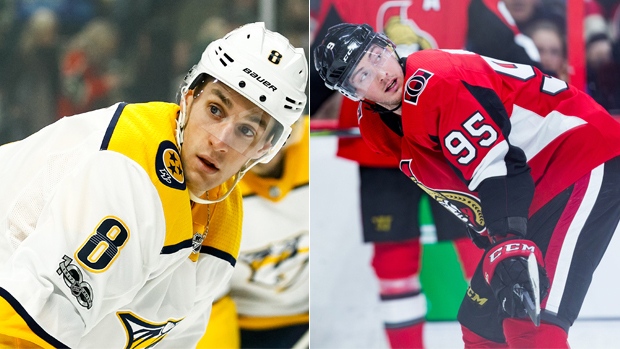 The Ottawa Senators own just five wins since acquiring Matt Duchene on Nov. 5 and have plummeted to 30th in the league standings.
Following two wins over the Colorado Avalanche in Sweden to begin Duchene's tenure with the team, the Senators have posted just 38 goals in their past 18 games after scoring 51 in their first 14 games before the Duchene trade.
Despite the team's tailspin since his arrival, Duchene said Wednesday Senators head coach Guy Boucher assured him he is not the reason for their recent struggles.
"I had a conversation with Guy, and he thought I might be thinking about that a little bit," Duchene told the Ottawa Sun. "He told me this was kind of creeping in before I got here. I got kind of inserted into the driest offensive stretch probably this team has ever had.
"Obviously it's tough to start out that way, but at the same time, you go through the worst at the beginning, and then the rest can only go up from there."
While Duchene has just two goals and five points in his 18 games since the trade, Kyle Turris, sent to the Nashville Predators as part of the three-team deal, has four goals and 17 points in 18 games since being moved.
"I didn't get traded for Turris," Duchene said bluntly to the Sun.
Duchene, who the Avalanche received first and third-round picks from the Senators (in addition to other pieces) for, at the very least took Turris' spot in the Senators lineup.
"I do not look at it that way, at all," said Duchene. "He's a great player, but I think we're different players, and different situations for sure. Different goals within our respective teams. It's apples and oranges, I think."
While the numbers haven't been there for Duchene, who's a minus-8 with the Senators this season, he believes his line with Bobby Ryan and Mark Stone has been dangerous.
"Here's the problem … everyone only judges on numbers," he said. "If you look at it, everything has been there for us, other than production. Everything. If you look at the chances for, versus chances against, shots on net, all that stuff, possession. I've had so much fun playing [with Ryan] and the fact we haven't produced has been frustrating, because we feel like we've deserved it.
"People want to go 'Ohhhh they only have this and this' but if you watch every single game, each play, and the end of the night you go holy [crap], how did they not have four goals as a line? That's been the way it's been. That's why we've stuck together. I mean, there's no other reason for it. If we weren't playing well together, we wouldn't be playing together.
"I think this is a line that can be effective going forward."
Since Nov. 5, the trio has combined for 10 goals and 25 points – Stone has 14 of those.
The Senators (11-14-7) visit the NHL-leading Tampa Bay Lightning on Thursday, and then face the Florida Panthers on Saturday in their final game before the Christmas break.