Duhamel, Radford win sixth national pairs title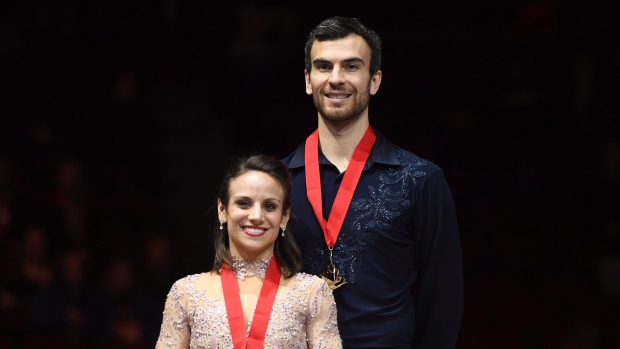 Two-time world champions Meagan Duhamel and Eric Radford captured a record-sixth national pairs title in commanding fashion.
Duhamel, from Lively, Ont., and Radford, from Balmertown, Ont., scored 227.23, despite a bad fall by Duhamel on their throw quad Salchow.
Duhamel and Radford have won all but one Canadian title since they teamed up after the 2010 Vancouver Olympics.
"It feels crazy," Duhamel said of their six consecutive titles. "When we think back to Moncton in 2012, when we won that first title, our lives changed that night, and we could never have imagined what was ahead of us."
"Beforehand I wasn't thinking about it too much, you have such a job to do beforehand so I'm not really thinking of anything, and it's really kind of hitting me now what we've actually accomplished," Radford added. "It's really amazing and really stellar and I think it's more than we would ever have imagined — like so much of our career."
After their disappointing third at the Grand Prix Final, they made some strategic changes to their program, including adding side-by-side Salchows, which they hadn't attempted in a program in three years.
"(The Salchow) is what I fell on at the Olympics so this was my mini redemption of our poor long program in Sochi, and so I feel really proud of that," Duhamel said.