Dunedin hitting coach wowed by Guerrero Jr. and Bichette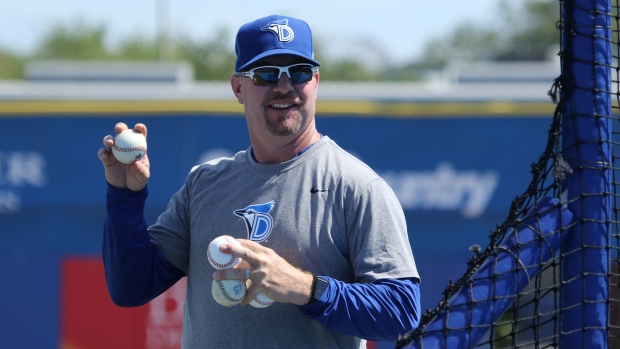 GLENDALE, Ariz. — There's at least one person within the Toronto Blue Jays organization that sees no need to take it slow with prized prospects Vladimir Guerrero Jr. and Bo Bichette.
That would be the man who saw them up close on a daily basis in the second half of the minor-league season, Dunedin Blue Jays hitting coach Corey Hart.
As the organization decides over the winter whether to send Guerrero and Bichette back to High-A — where they both played less than 50 games — or push them to cold-weather Double-A New Hampshire to start 2018, Hart believes they're more than ready for the aggressive assignment.
"I hope not," Hart, who's currently coaching in the Arizona Fall League, said when asked if he thinks he'll see the pair back in Dunedin for what would likely be a short stint to start next season. "I hope that they push them and see what they can do, but I have no idea what the organization's thoughts are. And then if they do have some failure, they don't fly through the minor leagues and their first failure is in the big leagues. Push them and see what you've got, and if they fail they can make the adjustment at each level."
Their production in the Florida State League under Hart seems to agree, and there's little doubt they'd be able to hold their own against the more advanced breaking stuff Double-A would have to offer.
They'd be two of the youngest players on the circuit if that happens.
Last year, only 10 players under the age of 21 started the season in the three Double-A circuits.
Bichette will turn 20 in March, while Guerrero will blow out 19 candles on his cake the very same month.
The numbers both of them put up last season after moving from Low-A Lansing in July were astounding, as Guerrero slashed .333/.450/.494 in 209 plate appearances at High-A.
Bichette was just as impressive in 182 plate appearances there, slashing .323/.379/.463.
You can pick out a whole host of statistics that jump off the page with both of them, but the fact Guerrero Jr. struck out just 62 times and walked 76 times in 437 total at-bats between Lansing and Dunedin is the reason he's now consensus top five prospect in all of baseball.
"He is awesome," Hart said with a wide grin. "One of the funnest players to watch, probably in baseball. He's 18 years old and he plays like a kid. He's got 70 power and he has more walks than strikeouts. He's going to be the real deal.
"He doesn't chase pitches. He goes up there and he's not as aggressive as his dad would be, which you would think he would be like, hacking at everything. He really hones in on one pitch and he doesn't chase a lot. That's very special, especially for a young hitter."
The key for both of them is in the approach.
Hart even thinks Bichette is a better hitter with two strikes than just about anyone he's seen.
Not bad for a player who slid to the 66th overall pick in the 2016 draft because of concerns surrounding his busy swing.
"It's very rare," said Hart, a veteran of eight minor league seasons as a player and who now has 12 seasons of coaching experience under his belt, including the past two in the Blue Jays organization. "I've never seen a player with that approach at that age or that level even. He's advanced and he's going to hit everywhere he goes. I don't think that's going to be a question.
"I said it all year — you have a better chance to get him out before you get two strikes on him than you do when he gets two strikes."
At this time last year, a big league ETA of 2018 would have been unimaginable.
But after five months of putting up gaudy numbers across two levels, it's now at least a legitimate talking point if that success is duplicated early on in Double-A.
Choosing his words carefully at his season-ending meeting with the media, even GM Ross Atkins wouldn't rule out Guerrero Jr. arriving in the majors as a teenager.
"There's so many variables to that," Atkins said. "One is, first, his performance and how he's doing it. There's, two, where he's going to play and what the offset would be and whose position he would, potentially, be playing. There's not going to be much that will slow him down, as talented as he is. I think there's a place to be found for a bat that advanced and that progressive if he's suggesting that he belongs at another level. The likelihood that he impacts our 2018 team, I think, is very low, but at the same time, I would never put a ceiling or a limit on a player."
After Guerrero and Bichette dominated in their first full minor league campaigns, the encore will be one of the most followed stories of next season.
And it could start in the upper levels of the minors if the opinions of the front office and Hart align.​