Dzierkals looking to stand out at Leafs camp
It's a well-worn cliché for young hockey players to marvel at the learning curve new levels of the sport present. For Martins Dzierkals, just stepping into the Maple Leafs organization as a draftee was an education in itself.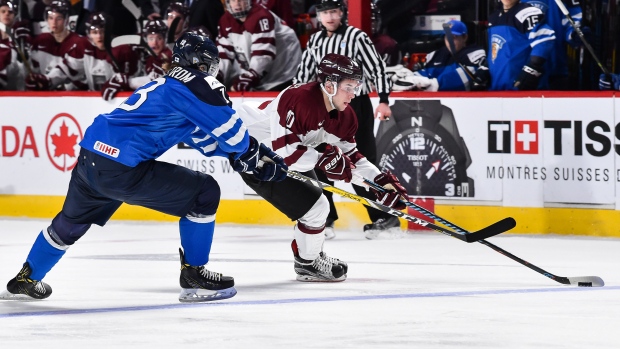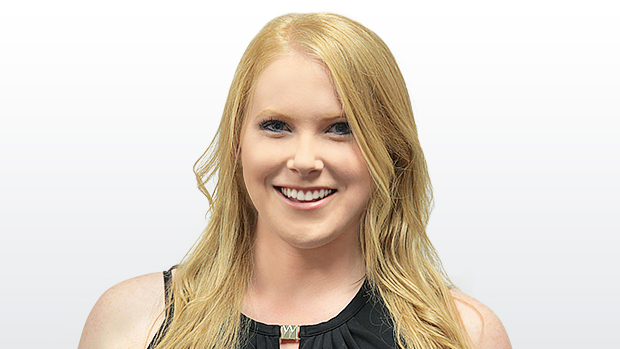 TORONTO – It's a well-worn cliché for young hockey players to marvel at the learning curve new levels of the sport present. For Martins Dzierkals, just stepping into the Maple Leafs organization as a draftee was an education in itself.
Selected 68th overall by the Leafs in 2015, Dzierkals is attending his third development camp with Toronto this week. Starting out at 18, Dzierkals thought he knew it all – until the Leafs curriculum blew him away.
"Three years ago, I [was with] coaches I had had for a long time and I thought 'they can't show [me] anything new, right?' Dzierkals said after camp practice on Sunday. "[But] here, it's completely new work, completely new hockey and there's so much to learn about still. I opened up a new world here."
In the place where he was once a fresh-faced newcomer, Dzierkals is sporting stubble as one of the longer-tenured prospects returning to camp. While lamenting how some of the close friends he's come up through the ranks with are gone – namely Dymtro Timashov and Andreas Johnsson, who both skated with the Marlies last year – Dzierkals is grateful for the dozen or so coaches surrounding him at all times this week, working towards a singular goal.
"I saw ten new faces I've never seen before, and they're all here to help," he said. "Everyone has their thoughts about the game, new styles. They're here to try to help you right. I remember myself three years ago coming here [from Latvia], I didn't know anything about North American hockey and I was a young guy. Now I feel a little more confident, little more sure about myself."
Having experienced a good deal of personal growth, Dzierkals is also ready to forge ahead. For the last two seasons, he's played with the Rouyn-Noranda Huskies of the Quebec Major Junior Hockey League, operating at a better than point-per-game pace in each campaign (67 points in 59 games in 2015-16; 49 points in 47 games last year). He parlayed that success into a roster spot for Latvia at last winter's World Junior Championship, playing through a left ankle injury suffered in late November that forced him to miss time.
Even though Dzierkals tallied just one goal over six games in the tournament, it was a milestone he'll never forget.
"I played in the [Air Canada Centre], scored a goal. It was my dream to score a goal there," he said. [World Juniors] was the best. One of the best tournaments I ever had in my life. Unfortunately it didn't end up well for my country [Latvia finished in last place], but we're going to [learn from that] experience."
So is Dzierkals. At 20 years old, the winger could return to the CHL for a final overage season in the fall, but he already has his sights trained higher than that.
"I want to play here. Right now my goal would be [Toronto] Marlies and Leafs," he said. "I'm focused on showing myself as best I can and to learn a lot of stuff here and see how things turn out in the future."
That means proving to the Leafs he can take their instruction and actually apply it. Dzierkals thinks the game quickly on the ice, and has high-end passing and stickhandling skills that have helped him be an impactful scoring forward in major junior. But to make a jump up successfully, he has to add a few more tools to his repertoire​.
"I remember from last year, they said I'd have to improve my play in front of the net area," Dzierkals said. "I'm a small player [5-foot-11, 173 pounds] and small players don't usually go there but in pro hockey, the goals aren't going to come easily so that's what I was trying to work on, in front of the net battles and in the corners."
Dzierkals is already showing improvement in that area at camp. He's been a standout among the forwards in battle drills the first three days, showing a relentlessness that wasn't as evident 12 months ago. But whether he's capable of advancing to the AHL next season or if there's a spot for him available isn't the biggest challenge in Dzierkals' path. As of Sunday's camp sessions, he hasn't yet been signed to an entry-level deal, and Toronto is already at 48 of their allotted 50 contracts for next season with decisions still to be made for the Leafs' roster.
Dzierkals knows he can't control that; what he can do is keep trying to stand out in Toronto's crowded prospect field. And Dzierkals has more than just goals and assists as a professional to aspire to. With only one Latvian-born player currently in the NHL – Buffalo Sabres forward Zemgus Girgensons – Dzierkals knows what a big deal it would be for him to help raise that number, whatever it takes.
"In my country hockey is the biggest thing, number one sport in the country," he said. "Every player is a star there. Every kid since childhood wants to play in the NHL.
"Whatever [the Leafs]' coach is going to tell me to do, [I'll do]. I'm going to work hard and wherever they put me, I'm going to do my best to try and help the team."