Eagles T Peters 50-50 for Dolphins game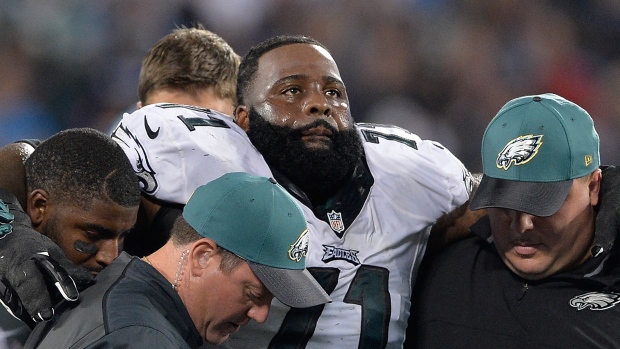 PHILADELPHIA - Philadelphia Eagles left tackle Jason Peters says he's only 50-50 to play on Sunday against the Miami Dolphins as he manages a back injury.
Peters missed a game on Sunday against the Dallas Cowboys.
"We'll see," Peters said after he went through Wednesday's practice on a limited basis. "There's no rush right now. I'll know more Thursday or Friday. Right now I'd say it's 50-50 for Sunday."
The 33-year-old Peters suffered the back injury in a loss to the Carolina Panthers Oct. 25. He was unable to play in the Cowboys game even after a bye week.
"It's a pinched nerve," Peters said. "I'm not a doctor, but that's what they told me. My back feels OK. The pain is in my quad."
It's common for nerve damage in the back to cause pain in arms and legs.
Peters did not practice in the Eagles' abbreviated Tuesday workout and went through individual drills Wednesday, but no team drills.
"I don't think it's anything that's going to bother me all year or anything like that," Peters said. "We just have to get it right."
With Peters out, right tackle Lane Johnson moved to the left side and backup Dennis Kelly started at right tackle. Both played well in the Eagles' overtime win, according to head coach Chip Kelly.
"To make that transition, and it's a difficult transition to do in just a couple of days ... I thought he did a really nice job," Kelly said of Johnson. "I thought Dennis played really well, too. He did a really good job in protection, and did a great job on combination blocks with (guard Matt) Tobin."
Out of practice for the Eagles Wednesday was starting safety Malcolm Jenkins, who was going through concussion protocol.
"He's going through the tests (Wednesday)," Kelly said. "We expect him to be back (Thursday)."
The only other player to miss Wednesday's practice was backup safety and special teams player Jerome Couplin with a shoulder injury.
___
AP NFL website: http://www.pro32.ap.org and AP NFL Twitter feed: http://www.twitter.com/AP_NFL