Bellus' Betting Breakdown: Is this Baltimore's year?
I liked this Baltimore Ravens team last year for one massive reason: Lamar Jackson is one the most slept-on quarterbacks in the league. Now that he's healthy, look out for Baltimore in 2023.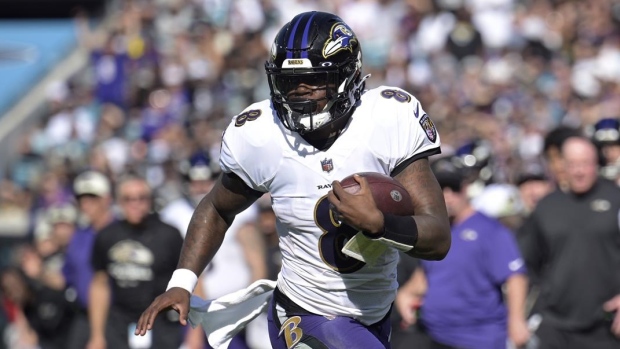 History has a crazy way of repeating itself, and unfortunately, that can sometimes be bad thing.
Last year, I circled the Baltimore Ravens and the San Francisco 49ers as two contenders to win the Super Bowl, thinking history would repeat itself from when they met in 2012.
Instead, the wrong side of history repeated itself. Lamar Jackson got hurt, and the Ravens' record plummeted, which is something we've seen before.
And the 49ers fell short in the NFC Championship as the injury bug finally caught them at the worst possible time and at the worst possible position with not one, but two injuries at QB that day.
While San Francisco remains a favourite in the NFC, it's the Ravens that I want to dive a bit deeper into today.
I liked this Ravens team last year for one massive reason: Jackson is one the most slept-on quarterbacks in the league.
And now, for the first time in his career, the Ravens have given him some weapons to work with in the passing game.
On top of the free agents and draft picks, another big addition to this team comes in the form of Todd Monken as offensive coordinator.
If his track record tells us anything, he should help this team bounce back in a very important area of the game after the Ravens surprisingly struggled in the red zone last year. We'll get more into that later.
I also am slightly lower on the Cincinnati Bengals than most people, so that plays a significant role in my liking of the Ravens and some of the numbers that can be found in the futures markets.
Let's get into the fun.
Lamar Is That Guy
Lamar Jackson has started 61 games in the regular season.
He's 45-16.
In 2018 he took over for Joe Flacco as the starter in Week 11 when the Ravens were 4-5, and it didn't take long for Jackson to make history.
He turned the team around, winning six of their final seven games to make the playoffs and the next season he became the youngest player ever named MVP.
Since entering the league, Jackson's 45 wins are the second most of any quarterback in the NFL, behind only Patrick Mahomes.
The company he keeps is elite. And yet, every day, I see lists of quarterbacks that have achieved far less ranked way higher than him.
Joe Burrow, Justin Herbert, and Josh Allen, they're all great.
None of them have shown the ceiling that Jackson has shown.
I'm talking No. 1 seed,
I'm talking MVP.
It's a different beast, and Jackson is more than capable of reaching that level again.
Baltimore hasn't had playoff success, and people like to throw out Jackson's accomplishments simply because he's lost a few postseason games in his early 20s with a roster not many guys could win with.
The last two years, only one thing has stopped the Ravens from contending, and it was Jackson getting hurt.
The franchise quarterback hasn't played a game past Week 14 in either of the last two seasons, and the Ravens are just 2-8 without him.
They held the No. 1 seed in the AFC before his injury in 2021, and last year were leading the division when he went down again.
Was Jackson's injury toward the end of the season as severe as it seemed, or was his looming contract negotiation a factor in the amount of time he missed? I don't know. But it doesn't matter anymore.
This year, he's paid, he's happy and he's healthy. Let's hope it stays that way.
Now, let's talk more about that supporting cast.
Squad Goals
Odell Beckham Jr., Rashod Bateman, Zay Flowers.
That's a pretty good 1-2-3 punch.
Add that to the presence Mark Andrews provides at tight end, and we have a group of pass catches that could be… dare I say, elite?
This group isn't without its question marks.
Beckham is now 30, and coming off a major knee surgery.
Bateman is working his way back from a foot injury that ended his rookie campaign after just six even games.
And Zay Flowers never played in the NFL.
But gosh, the talent this group has might be 100x higher than any of group Jackson has worked with.
Here is an interesting nugget from Warren Sharp's NFL Season Preview:
The Ravens WR with the most snaps by year since Lamar Jackson was drafted:
2018 - Willie Snead
2019 - Willie Snead
2020 - Marquise Brown
2021 - Marquise Brown
2022 - Demarcus Robinson
The Ravens have also tried to address the lack of production at wideout with the likes of Sammy Watkins a few years ago, and in 2020, they brought in a 32-year-old Dez Bryant after he hadn't taken a snap in the NFL for two years.
Safe to say those experiments didn't work.
And yet, Jackson still balled out. Winning an MVP with Willie Snead and Marquise Brown as your top two wide receivers should win you a Nobel Prize.
But that won't be the case this year. In the limited sample we saw last year, Jackson and Bateman worked well together.
And early reports on Flowers are awesome. Here is what backup quarterback Josh Johnson said about the rookie following the team's Week 2 preseason game.
"Zay is different," Johnson said, via a transcript from the team. "To see him do what you all see every day — we were able to get the ball in his hands early. He's a very exciting player, and his moves are wild, and it's like that every day. So automatically, it injects life into the whole team to see him go out there and just unleash his special talent. I'm excited for the young fella."
With all these new pieces on offence, someone will have to figure out how to make them fit. A change at offensive coordinator might help make that happen.
Todd Monken
Offensive coordinators can often be overlooked this time of year. And if you ask any Ravens fan, they'll likely say they're happy to have an new OC in town.
Monken lands with the Ravens taking over from Greg Roman, who held the OC title the last four years.
While Roman's play calling was often questioned, the results usually spoke for themselves.
Until last year.
The Ravens struggled in one of the biggest areas of the field last year: the red zone.
Here are the Ravens redzone efficiency numbers under Roman.
2019: 67% (#2 )and 80% in goal-to-go (#5)
2020: 63% (#12) and 73% in goal-to-go (#19) 2021: 61% (#13) and 73% in goal-to-go (#15) 2022: 46% (#30) and 65% in goal-to-go (#24)
After starting as one of the most efficient redzone teams in the league, their stock had plummeted to one of the worst in the league last year.
Enter Monken.
Last year, he was the OC for the Georgia Bulldogs. Georgia led the NCAA in redzone offence in 2022, scoring a touchdown on 56 per cent of their trips inside the 20.
The last time we saw Monken coach in the NFL, it was with the Cleveland Browns in 2019.
The 2019 Browns weren't very good, going 6-10 with Baker Mayfield at the helm.
Their offence was 22nd in the league in points.
But their redzone numbers were 13th best, scoring a touchdown on 58 per cent of all trips.
They didn't get there much, but when they did, they were better than league average.
With Baltimore loading up on more playmakers and a new voice calling the plays, this Ravens' offence could reach new heights in 2023.
Bengals Bewhere...?
Cincinnati is awesome. The Bengals are great. Two years ago they had a lead in the second half of the Super Bowl, and last year they probably should've beat the Chiefs in the AFC Championship game.
Joe Burrow and Ja'Marr Chase have shown they are one of the best duos in the league.
But something about the Bengals doesn't pass the sniff test for me in 2023.
Looking at the last two years, one glaring thing stands out.
The Bengals were 5-4 in 2021 before winning five of their next six and got to rest starters for the final week of the season.
In 2022, they started 4-4 before winning eight straight to end the year.
This team has stumbled out of the blocks in back-to-back years and found a switch to flip in the second half of the season.
And it makes some sense. This team has several flaws.
The running game has struggled for years and was one of the worst in the league last year with 3.8 yards per attempt.
It has a lot has to do with their O-line. The addition of All-Pro Orlando Brown Jr. will give the unit some name value, but it still ranks 17th in the league according to Pro Football Focus.
But despite a shaky O-line and an inefficient run game, they do something on offence exceptionally well and not many other teams can match.
Put Joe Burrow in shotgun, snap him the ball and let him read and react to what the defence has to offer.
No play action, no crazy designs. Just let your best player make the right plays.
But now, not only do teams have lots of tape on this offence, but Burrow is already banged up.
While he seems on track to play Week 1, if he misses any time this year, the offence will be in a pickle. Like any other team without their starting quarterback.
I'm not saying the Bengals will go 7-10 and miss the playoffs, but they could regress this season from 12 wins back to the number they won in 2021 (10).
And if that's the case, watch out for those Ravens.
The Bets
Now that we're 1600 words deep. Let's make some money.
The first play will be Baltimore to win the AFC North at +210.
I question the ceiling of the Bengals, and can't see the Browns or Steelers winning enough games this year.
Next, Lamar Jackson +1600 to win MVP.
It's been long enough since his MVP that I doubt any voter fatigue will get Jackson this year.
With a healthy Jackson, this team is more than capable of obtaining the No. 1 seed in the AFC, something that'll likely swing who wins MVP.
Since 2010, only three MVP winners haven't been the quarterback of a No .1 seed, so if you believe this Ravens team can win the AFC, join me on the Lamar train.
With all of this being said, I am also on Baltimore to win the Super Bowl at +1600.
The AFC will be a battle, but this Ravens team has talent and can give any top team in this league a run for their money.
Finally, I'll end with a few darts and play a Ravens-Eagles Super Bowl at +4200 and Ravens-49ers at +4900.
Wouldn't that be a fun sweat on Championship Weekend?