Eskimos' Harris out Friday vs. Ticats with upper-body injury
The Edmonton Eskimos will be missing their starting quarterback on Friday night. Trevor Harris, the CFL's leading passer this season, has been placed on the one-game injured list and will miss Friday's home game against the Hamilton Tiger-Cats.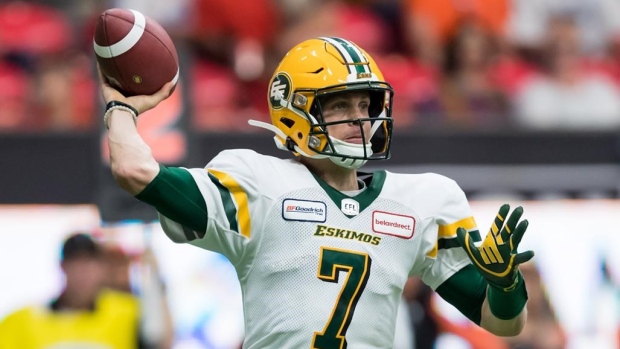 EDMONTON — In just his second regular-season game at quarterback in almost three years, Logan Kilgore will start for a desperate Edmonton Eskimos team against the visiting Hamilton Tiger-Cats on Friday night.
Kilgore's first and only other appearance at QB with the Eskimos (6-6) came when Trevor Harris left early in the second quarter of a 33-17 loss to the Calgary Stampeders with an injury to his throwing arm on Sept. 7.
Kilgore stepped in and went 21-for-28 passing for 242 yards. With Harris now on the one-game injured list, he'll face the East Division-leading Tiger-Cats (9-3), who are looking to bounce back after a 19-18 loss to Calgary, in his first career CFL start
Pressure? Not to hear Kilgore tell it.
"There's no substitute for game experience," Kilgore said when asked if coming in for Harris in Calgary takes some of the edge off facing Hamilton. "The more you can get, the more comfortable you feel and, more importantly, the more comfortable the guys around me feel.
"There's subtle differences, trying to emulate everything cadence-wise and just communication-wise Trevor does. Luckily, we've been working hard all year just (in case) this would happen."
While Kilgore, who holds on field goals, took reps at quarterback in both of Edmonton's pre-season games, his relief appearance in Calgary was his first in a regular-season game since Oct. 2, 2016 as a member of the Toronto Argonauts. He came in for Drew Willy in a 38-11 loss to Montreal.
"It came down to watching Trevor throw the ball and knowing he wasn't quite ready to play this week," coach Jason Maas said. "We were trying to give him as many days off as possible knowing that's what he needs. He needs time.
"It wasn't up to par or up to snuff, so we decided to just shut him down and go with Logan. He (Harris) couldn't go. I mean, that's the thing. It didn't matter what the game was. Trust me, this game is important."
After stops as a backup with Toronto and Hamilton from 2014 to '17, Kilgore spent 2018 coaching junior college in California. He accepted an invitation to camp from Edmonton last winter.
"It's a great opportunity," Kilgore said. "It's funny because to the outside looking in, it's basically if you haven't played in a game, you haven't played, but for anybody that's in this building, you practise in football way more than you play games, right?
"In high school, it might be 10 games and you're practising year-round. College, you get 12 to 14 if you go to a bowl game. We get 18 up here regular season and then more, so I feel like going against our defence every day in practice, they're as good as it gets, in my opinion. We practise with such high intensity. I think that has really paid dividends for me."
If the Eskimos are to have any hope of catching Calgary and Saskatchewan, both 8-4 and tied for second place in the West Division, they can't afford a fourth straight loss to begin the stretch drive. How much of that stretch drive involves Kilgore as the starter remains to be seen, but it begins with the Ticats.
"I think that's the life of a backup quarterback or the second quarterback on a team," Maas said. "They're in the wings waiting and their job is (to) be ready in case of emergency or opportunity.
"You've got to be ready and I think Logan has done a tremendous job of that."
HAMILTON TIGER-CATS (9-3) at EDMONTON ESKIMOS (6-6)
Friday, Commonwealth Stadium
JUST FOR KICKS: The Tiger-Cats come in after giving up a 17-6 halftime lead in a loss to Calgary on Saturday. Hamilton had a chance to win it with 32 seconds remaining in regulation time, but a leaping Tre Roberson blocked a 42-yard field goal attempt by Lirim Hajrullahu to preserve the win.
NO RUSH: The Eskimos haven't managed 100 yards rushing in four consecutive games. They had 67 yards on 16 carries in the loss to the Stampeders Sept. 7 and 55 yards on 14 attempts in their 25-9 loss to Calgary Sept. 2. They've dropped to sixth in rushing yardage (1,094) and in average yards per game (91.2).
WELCOME MAT: The Ticats defeated the Eskimos 38-21 in their last visit to Edmonton, June 22, 2018, and have won in three of their last four games at Commonwealth Stadium dating back to a 49-20 victory on Aug. 21, 2015.
HATS OFF: Former Edmonton quarterback Ricky Ray will be the 31st player added to the Eskimos' Wall of Honour in a halftime ceremony. Ray is the all-time Eskimos passing leader with 40,531 yards and is fourth all-time in CFL passing yards (60,736).
This report by The Canadian Press was first published Sept. 19, 2019.