Eichel: Fans getting sick of me trying to pass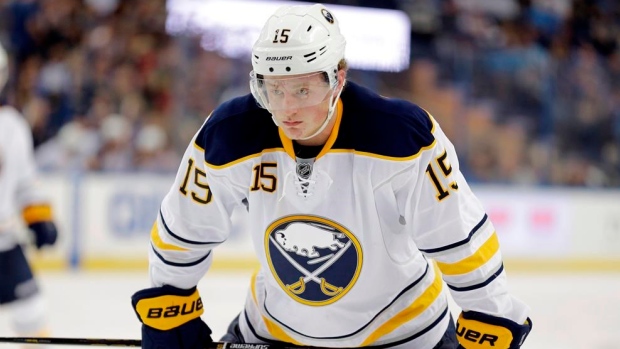 Jack Eichel leads the Buffalo Sabres with 10 assists through 15 games this season, but with just four goals on the year, the Sabres star is looking to shoot the puck more.
The 21-year-old has been held without a goal in his previous six games, despite throwing 22 shots on net.
Eichel setup the Sabres' first goal of their 3-1 win over the Washington Capitals on Tuesday, but was left lamenting his pass-first mentality. He attempted to pass the puck on a three-on-one heading towards the Capitals net in the final minute but had his attempt blocked. Kane scored seconds later when the Capitals turned the puck over.
"I think I need to learn to shoot the puck. I think our fans are getting a little sick of me trying to pass it," Eichel said after the win.
Sabres head coach Phil Housley agreed with Eichel, noting he wouldn't mind seeing his top centre be more selfish at times.
"One thing that Jack does really well is he's a very confident person with the puck," Housley said. "He handles it well, and he creates his own opportunities and chances for his linemates. I'd like to see him shoot more, especially on the two-on-ones. He's got a terrific shot.
"I know he's an unselfish player in that regard, but sometimes you'd like to see him shoot more."
Housley noted Eichel doesn't need to score on every shot, but he can create opportunities for his teammates by throwing pucks on net instead of passing.
"It's just constant reminders," Housley said. "You don't have to pick the corner every time. There's opportunity to do that. There's opportunity to try and create a rebound and a second chance. But we have to keep reinforcing that message."
Eichel scored 24 goals in each of his first two seasons, though he accomplished the mark in just 61 games last year compared to 81 as a rookie.
The Sabres (5-8-2) host the struggling Florida Panthers (4-8-2) on Friday night.