Eichel returns to lead Sabres over Sens
Jack Eichel had a goal and an assist in his season debut as the Buffalo Sabres defeated the Ottawa Senators 5-4 on Tuesday night. Mike Hoffman had a hat trick and four points in a losing cause for the Senators.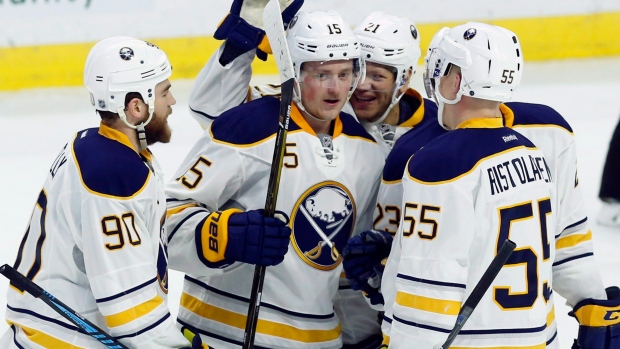 OTTAWA — The Buffalo Sabres got a spark on Tuesday night with the return of Jack Eichel to their lineup.
Eichel, who had missed the first 21 games of the season with a high ankle sprain suffered on Oct. 12, made an immediate impact with a power-play goal and an assist in Buffalo's 5-4 win over the Ottawa Senators.
"It's a momentum thing," said Ryan O'Reilly, who had two goals and an assist to lead the Sabres. "You go out there and you watch (Eichel's) line and they're possessing and he's making plays and creating and coming on right after that it's the same thing, you kind of feed off that.
"The power play too, once he gets the puck it's so tough for people to get it off him."
"I was really excited and had a lot of energy waiting for the game to start," added Eichel. "I think it helps a little bit when you're able to get a couple points on the power play at the beginning of the game. It kind of settles you down."
Kyle Okposo and Sam Reinhart also scored for the Sabres. Robin Lehner, who allowed one goal on six shots, started the game but left at 17:48 of the first. Anders Nilsson allowed three goals on 29 shots.
Sabres coach Dan Bylsma said Lehner is day to day with a hip injury.
Mike Hoffman had three goals and an assist for the Senators (14-8-1), who saw their four-game win streak come to an end. Mark Stone, playing his 200th NHL game, also scored. Craig Anderson, making his sixth straight start, made 23 saves. .
While the Senators scored two power-play goals, they also gave up three.
"We lost the special teams battle," said Anderson. "They got three, we got two. At the end of the day you've got to win the special teams battle or tie it to give yourself a chance. Usually we're pretty good, but we just weren't able to shut those guys down for some reason."
Senators coach Guy Boucher said his team's slow start was the difference.
"That's what killed us, that's what sank us," Boucher said. "I think our guys showed, like usual, a resiliency in coming back and we wanted it to be a one-goal game coming into the third so we did that. So we were only one goal behind, but then we didn't get the goal."
Ottawa trailed 4-3 to start the third and O'Reilly gave Buffalo a 5-3 lead with his second late in the game.
The Senators made it 5-4 on Hoffman's power-play goal with 1:31 remaining but were unable to score the equalizer to the disappointment of the 14,259 on hand at Canadian Tire Centre.
Trailing 3-1, Stone, who now has five goals, four assists in his last eight games, scored a power-play goal at 8:20 of the second.
The Sabres regained their two-goal lead as Evander Kane's shot deflected past Anderson off Reinhart's skate, but Ottawa cut the lead yet again as Hoffman, with his second of the night, tipped Erik Karlsson's shot.
Buffalo opened the scoring with back-to-back power-play goals from Okposo and Eichel.
The Senators cut the lead in half as Hoffman buried Mark Borowiecki's rebound, but the Sabres replied 31 seconds later as O'Reilly came into the slot and scored off his backhand.
By the end of the game the Senators were without Bobby Ryan, who aggravated a hand injury early in the second. Boucher said Ryan will be out for a while. Marc Methot, who suffered a lower body injury late in the second, is day to day.
Notes: Senators G Andrew Hammond was recalled early Tuesday and was a healthy scratch, as was LW Max McCormick and D Fredrik Claesson. The Sabres were without D Zach Bogosian (knee) and D Dmitry Kulikov (unknown).