Einarson teams up with Sweeting to form new Manitoba rink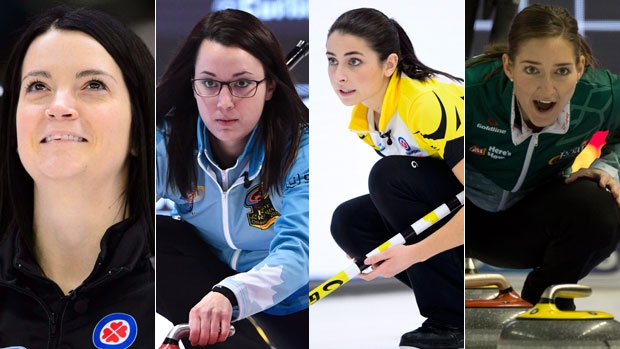 The 2017-18 curling season is not over, but rinks are already starting to make their plans for next year and the next Olympic cycle.
Kerri Einarson, who split ways with her Winnipeg rink after their run to the Scotties Tournament of Hearts final earlier this month, has joined forces with former Alberta skip Val Sweeting and former Manitoba skips Shannon Birchard and Briane Meilleur.
Einarson will call the game and throw last rocks with Sweeting at third, Birchard at second and Meilleur at the lead position.
"With a new quadrennial approaching, this team assembled with the hopes of qualifying for and succeeding on the Grand Slam Circuit, making a strong run in the 2019 Manitoba Scotties, and building towards the ultimate goal: the 2022 Olympics! After skipping their respective teams, Val, Shannon, and Briane are ready for the challenge of a new position and look forward to joining up with Kerri," said the new-look rink in a Facebook post on Friday.
"We are all very excited to build and grow as players, and cannot wait for next season to start!"
Representing Team Wild Card, Einarson, 30, alongside Selena Kaatz, Liz Fyfe and Kristin MacCuish qualified for their first Scotties final this season in Penticton, falling 8-6 to Winnipeg rival Team Jennifer Jones.
On Monday, Einarson announced she would be leaving the rink with Kaatz, Fyfe and MacCuish sticking together with a yet-to-be-named skip. Two days later, Team Sweeting of Edmonton announced they would be parting ways after four years together.
After losing in back-to-back Scotties finals in 2014 and 2015, Sweeting has been unable to get back to the Canadian championship. Sweeting posted a 4-4 record at the Roar of the Rings Canadian Olympics trials in December. The 30-year-old is a three-time Grand Slam champion, mostly recently capturing the Tour Challenge earlier this year in Regina.
Birchard, 23, has been skipping her own rink in Manitoba since junior and appeared in her first Scotties this season as a replacement for third Kaitlyn Lawes on Team Jones. Lawes was busy winning mixed doubles Olympic gold with teammate John Morris in Pyeongchang. Birchard is a two-time Canadian junior silver medalist (2012 and 2013).
Meilleur, 25, has skipped a Winnipeg rink for the past two curling campaigns. She was a win away from earning the last spot in the Olympic trials, but fell to Team Julie Tippin in the second qualifier at the Road to the Roar Pre Trials in Summerside, PEI.