Ekman-Larsson, Lundqvist, Zucker finalists for King Clancy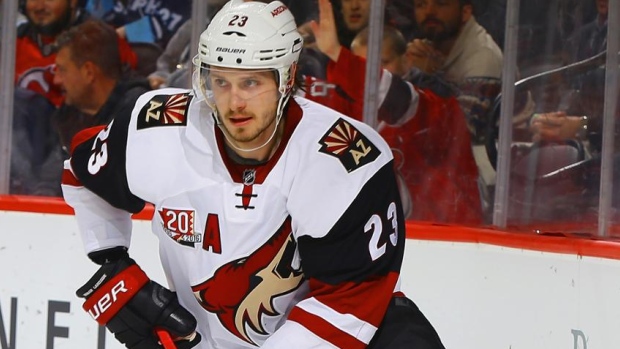 Arizona Coyotes defenceman Oliver Ekman-Larsson, New York Rangers goalie Henrik Lundqvist, and Minnesota Wild forward Jason Zucker were named finalists for the King Clancy Memorial Trophy by the NHL Tuesday.
The King Clancy Memorial Trophy is awarded each year "to the player who best exemplifies leadership qualities on and off the ice and has made a noteworthy humanitarian contribution in his community."
Ekman-Larsson has served as the Coyotes' ambassador for Hockey Is For Everyone. The 27-year-old purchased a suite each season for the Boys and Girls Club where kids were given the opportunity to watch Coyotes games and meet him after. Ekman-Larsson has also worked with Phoenix Children's Hospital, Playworks, Hockey Fights Cancer, and Hockey Talks.
Lundqvist and his wife Therese founded the Henrik Lundqvist Foundation, which has raised more than $2.5 million to benefit partners Together for Better, New York Presbyterian Children's Hospital, Ronald McDonald House, and Garden of Dreams Foundation. Lundqvist also raised $18,000 for Hockey Fights Cancer and $2,900 for Hockey is for Everyone.
Zucker and his wife Carly began a fundraising campaign for the Zucker Family Suite and Broadcast Studio at the University of Minnesota Masonic Children's Hospital, starting the project with a $160,000 donation. Zucker also partnered with Da Beauty League to host a game with players from Minnesota Special Hockey, a program for players with development disabilities.