Englot rink to compete as Canada at Scotties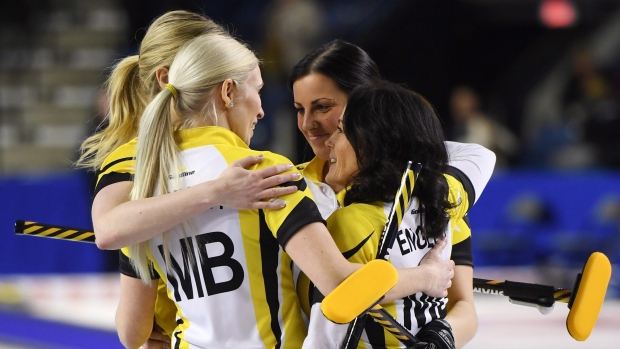 Michelle Englot's Winnipeg rink will assume the mantle of Team Canada at the 2018 Scotties, Curling Canada announced on Wednesday.
Runners up in 2017, the rink steps in for Rachel Homan's rink who have qualified to represent Canada at the PyeongChang Winter Olympics after winning the Roar of the Rings earlier this month. With the Scotties running during the Olympics, Homan's rink was forced to decline participation in the Scotties, set to run from January 27 to February 4 from Penticton, B.C.
"Obviously, our focus this season was on the Tim Hortons Roar of the Rings, but with this amazing opportunity, we will be getting to work very quickly to prepare for the Scotties, as well as the World Financial Group Continental Cup," said Englot in a release. "I have so many amazing memories associated with competing at the Scotties, and to have the chance to compete as Team Canada is an absolute privilege, and one that we can't wait to experience."
Englot's rink finished 2-6 in the round robin at the Roar, placing seventh.
Homan's Ontario rink defeated Englot and Manitoba in the Scotties final by scoring two in the 11th end.