Entering Year 4, McDavid still searching for consistent linemates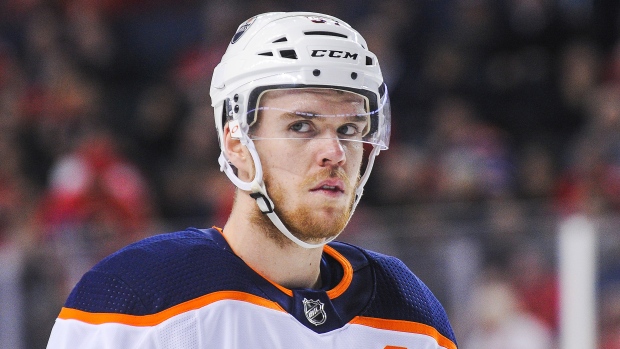 Connor McDavid has won the Art Ross Trophy two seasons in a row despite playing with a revolving door of wingers. Now, the star centre is hoping he can find consistency on the Edmonton Oilers' top line in his fourth NHL season.
"I think you're just looking for a little bit of chemistry," McDavid told the Ottawa Citizen this week. "It's funny that we're still talking about it. It's been three years now. I was able to find a little chemistry with Nuge and Ty Rattie at the end of the year.
"You hope to come into training camp and stay with someone and build your game with someone."
McDavid spent parts of last season playing with former top-three draft picks Leon Draisaitl and Ryan Nugent-Hopkins on his line. At other times he lined up with Rattie, Jujhar Khaira and even rookie Kailer Yamamoto during his nine-game NHL stint to start the year.
Rattie spent 53 games with the AHL's Bakersfield Condors last season before being called up to the Oilers. He scored five goals and posted nine points in 14 games playing alongside McDavid and Nugent-Hopkins.
With the Oilers staying quiet both in free agency and on the trade market this summer, Rattie – a veteran of 49 NHL games since debuting in 2013 – appears to have the inside edge to play alongside McDavid and Nugent-Hopkins this season. Other options include 2016 fourth-overall pick Jesse Puljujarvi and Yamamoto, if he makes the leap to the NHL this season.
The Oilers traded top-six wingers Taylor Hall (to the New Jersey Devils) and Jordan Eberle (New York Islanders) in the past two off-seasons and McDavid argued Tuesday that keeping the core of the team's roster intact this summer could prove beneficial.
"I think the message has been all along that if there was a move to be made, they were going to make it," McDavid said of the Oilers' mindset this summer. "But nothing too promising came up. That's good. You want to keep the group together. We were a good team two years ago. Obviously, the team we were last year wasn't up to our standards. It's important that we get back to our level."
The Oilers fell well shy of expectations last season, finishing 17 points out of a playoff spot after cracking the 100-point mark for the first time since 1987 a year earlier. The 21-year-old told the Citizen said he saw signs for optimism late in the season and believes the team can build off that moving forward.
"I think there just has to be a point where you get sick of losing and you just don't [lose] anymore," McDavid said. "Guys came together and guys were sick of where the team was going. They're ready to play hockey the way it should be and the way that you need to play to win.
"It's a good learning experience."
As for McDavid, despite winning the Ted Lindsay Award for the second straight year the centre still sees room to improve in his game.
"I think you're always just trying to get better, any way you can," said McDavid. "My shot is one thing I've always talked about. But it's hard to work on the other things. You can talk about how you're going to work on your defence, but how are you going to really do that in the summer unless you're scrimmaging?
"Obviously, you're focusing on areas in the game and your body that you want to improve."
The Oilers open their season on Oct. 6 against Hall's Devils in New Jersey.