Karlsson, Hertl, Pavelski out for Sharks
The San Jose Sharks will be down three critical players as they attempt to keep their season alive on Tuesday night in St. Louis, Frank Seravalli writes.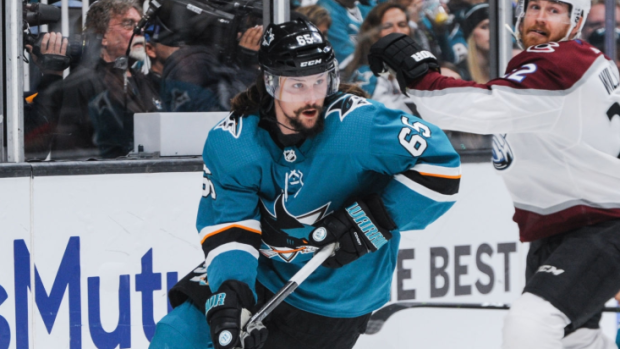 ST. LOUIS — The San Jose Sharks will be down three critical players as they attempt to keep their season alive on Tuesday night.
Sharks coach Peter DeBoer ruled defenceman Erik Karlsson and forward Tomas Hertl out of the lineup for Game 6, saying they didn't even make the trip, while captain Joe Pavelski was ruled out after not taking warmups with the team.
That's the playoff leader in assists (Karlsson), the third leading goal scorer in the playoffs (Hertl) and San Jose's emotional leader (Pavelski) out of the lineup with the Blues tantalizingly close to their first trip to the Stanley Cup final in 49 years.
It's a less-than-ideal circumstance.
"All three of those guys are important guys. If we had them, great. If we don't, then it's next man up and we have to find a way to get the job done," DeBoer said.
Karlsson, the two-time Norris Trophy winner, didn't return for the third period of Game 5 after labouring all playoffs with an apparent groin injury that has hampered him for months. DeBoer admitted Karlsson has been "playing at whatever strength" for a while now.
Hertl took a high hit from Ivan Barbashev in the first period of Game 5, played in the second period, and then also did not return for the third period.
Meanwhile, Pavelski also took a high hit in Game 5 after suffering an apparent concussion when he was cross-checked by Vegas' Cody Eakin on a controversial call in Game 7 of the first round. He skated one shift in the third period of Game 6.
Tim Heed is expected to replace Karlsson for his third career Stanley Cup playoff game. Dylan Gambrell could draw in for Pavelski if he doesn't play and Marcus Sorensen is expected to remain in the lineup.
For a few hours, at least, the Sharks will put aside the important questions about the future of the franchise: Could this be the last game in a Sharks uniform for The Joes, both 'Jumbo' Joe Thornton and 'Little' Joe Pavelski?
Pavelski, who has spent his entire 13-year career in San Jose, is scheduled to be an unrestricted free agent on July 1. Thornton, who is in his 14th season with the Sharks, turns 40 on July 2
For almost two decades, the hockey world has wondered whether or when the Sharks would get over the hump to win a Stanley Cup. Suddenly, the hump is staring them right in the face.
DeBoer said there won't be a big pre-game speech.
"Well, do you need to say anything?" DeBoer said. "You're getting a chance to play in the conference final, to win a game and get to Game 7 at home. It's an unbelievable opportunity."
Contact Frank Seravalli on Twitter: @frank_seravalli