Eriksson eager to atone for forgettable season
Loui Eriksson's first season with the Vancouver Canucks can pretty much be summed up by an unfortunate sequence in the first period of his first game. The effort was there. The results? Not so much.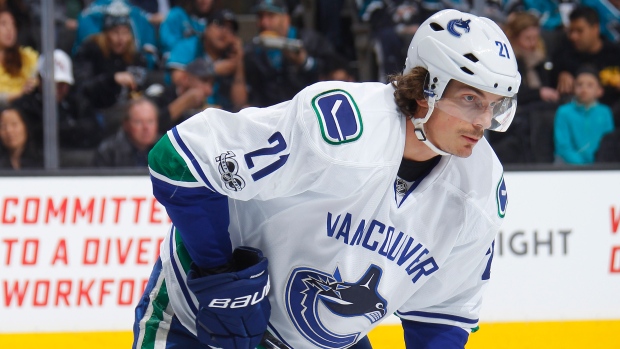 Loui Eriksson's first season with the Vancouver Canucks can pretty much be summed up by an unfortunate sequence in the first period of his first game.
The effort was there. The results? Not so much.
Fresh off signing a six-year, US$36-million free-agent deal in July 2016, the veteran winger was protecting the puck from four Calgary Flames on a delayed penalty in Vancouver's opener when he threw a blind pass from centre ice back towards the Canucks' zone.
Eriksson was expecting a teammate to be there. None were, and with goalie Ryan Miller at the bench for an extra attacker, disaster struck as the frozen disc slid into the vacant net for an agonizing own goal in front of the home fans.
"As soon as I put it up there I saw it was an empty net and I was like, 'What is going on here?'" Eriksson said after the game. "It slowly just glided in."
Vancouver came back to win that night in a shootout to save Eriksson further embarrassment — he actually assisted on the tying goal late in the third period — but the season was, for both the player and his team, a dud.
Coming off a 2015-16 campaign with the Boston Bruins where he scored 30 times to earn that rich contract, it took Eriksson 14 games to get his first goal for Vancouver. He finished with just 11 goals in 65 contests before a knee injury in March sidelined him for the remainder of the season.
"I expected it was going to be tough, but I didn't get the best start coming here," Eriksson said last week as he began his second training camp with the Canucks. "It was just hard to get something going."
The Swede was expected to suit up with countrymen Henrik and Daniel Sedin on Vancouver's top line at this time last year, but inconsistent play and injuries for a team in desperate need of offence saw Eriksson bounce between different forward groups as the Canucks limped to a 29th-place finish.
"There were a couple of occasions last year where I felt our line, when we played together, it got going a little bit," said Henrik Sedin. "We had some chemistry going a couple of times, but for different reasons they had to switch."
Eriksson's first season with the Canucks somewhat mirrored the struggles he experienced with Boston after a trade from the Dallas Stars.
The Goteborg native had just 10 goals and 27 assists in 61 games with the Bruins in 2013-14 before racking up 47 points (22 goals, 25 assists) and 63 points (30 goals, 33 assists) in 2014-15 and 2015-16.
Currently in China with the rest of his veteran teammates for Vancouver's historic exhibition games this week against the Los Angeles Kings in Shanghai and Beijing, the 33rd pick at the 2003 draft is looking to rebound once again as he prepares for his 12th NHL season.
"I have high expectations every year," said Eriksson, who had 13 assists to go along with his 11 goals in 2016-17. "I know it wasn't the best year for me last year."
While not making excuses for his debut season with the Canucks, Eriksson is more settled off the ice heading into this season.
"I feel more comfortable," said Eriksson, who along with his wife has four young children. "Everything is easier now. I have a big family.
"We have a house, the kids are in school. That makes it easier for me as well."
What might not be easy is getting back into a scoring role with the Canucks.
Vancouver signed forwards Sam Gagner and Thomas Vanek in free agency, and it remains to be seen where the 32-year-old Eriksson, who has 223 goals and 305 assists for 528 points in 790 career games, fits as rookie head coach Travis Green looks to pull a club that has missed the playoffs three of the last four springs back to respectability.
"He knows he has to have a better year," said Green. "I think he's more than capable of it."
And that's something Eriksson is eager to show after a forgettable introduction that quickly snowballed.
"It was a tough start," he said. "I had to work uphill through the whole season."
---
Follow @JClipperton_CP on Twitter