Eskimos drop Owens from negotiation list
The Edmonton Eskimos have dropped NFL great Terrell Owens from their negotiation list. Owens activated the 10-day window for the Eskimos to offer him a contract or drop him from their list three days ago.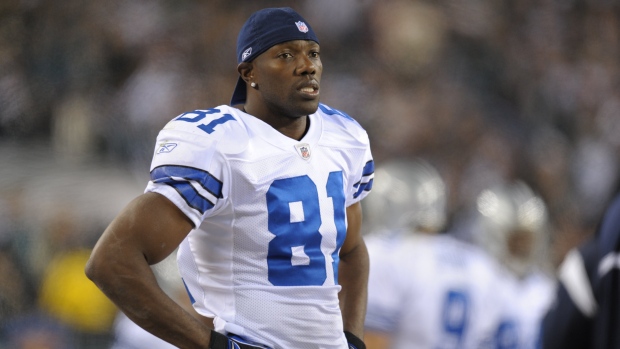 Terrell Owens won't be kick-starting his pro football career with the Edmonton Eskimos.
Edmonton released the 44-year-old former NFL receiver from its negotiation list on Friday. That leaves Owens free to sign with any other CFL team.
Earlier this month, Owens activated a 10-day window to receive a contract offer from the Eskimos by Tuesday. Edmonton placed Owens, who last played in the NFL in 2010, on its 45-man negotiation list on June 19, shortly after he posted a video of himself running a 4.43-second 40-yard dash.
Jason Staroszik, the Edmonton-based agent handling Owens' CFL negotiations, said the Eskimos' decision won't dampen the receiver's enthusiasm about resuming his pro football career in Canada.
"It's definitely not over," he said. "Terrell could still sign as a free agent with any team that's interested.
"We might see another team put him on their negotiation list. Hopefully there's another team with an interest, I feel there is, so we'll see what happens."
Owens has been out of football since 2012 when he had 35 catches for 420 yards and 10 TDs over eight games with the Allen Wranglers of the Indoor Football League. Owens signed with the NFL's Seattle Seahawks during training camp that year, but was released.
Once the 10-day window was activated, Edmonton had four options: offer Owens a contract; trade his rights; release him prior to the end of the 10-day period; or make no offer over the 10-day period, at which time he would've been released automatically from the Eskimos negotiation list.
If Edmonton had made Owens a contract offer and he rejected it, Owens would've remained on the Eskimos negotiation list for another year, which would've given the two sides more time to work out a deal.
The addition of Owens to the negotiation list was a curious move by Edmonton, which isn't in need of any receiving help. D'haquille Williams (31 catches, 556 yards, three TDs), Derel Walker (27 catches, 386 yards, three TDs) and Kenny Stafford (21 catches, 320 yards, one TD) were first, second and fourth, respectively, among CFL receivers heading into this week's action.
Owens was selected in the third round, No, 89 overall, of the 1996 NFL draft by San Francisco. He played for five teams — the 49ers, Philadelphia, Dallas, Buffalo and Cincinnati — over 16 seasons, registering 1,078 career catches for 15,934 yards and 153 TDs.
He's ranked second all-time in receiving yards and third in receiving TDs. Owens was a five-time first-team All-Pro and a six-time Pro Bowler.
But the outspoken Owens was a polarizing figure during his NFL career and continues to be away from the game. He was named for induction into the Pro Football Hall of Fame next month in Canton, Ohio but declined an invitation to the enshrinement ceremony.
Instead, Owens will deliver his Hall of Fame speech at the University of Tennessee-Chattanooga, his alma mater, Aug. 4. The Pro Football Hall of Fame isn't planning to individually honour Owens during its ceremony.