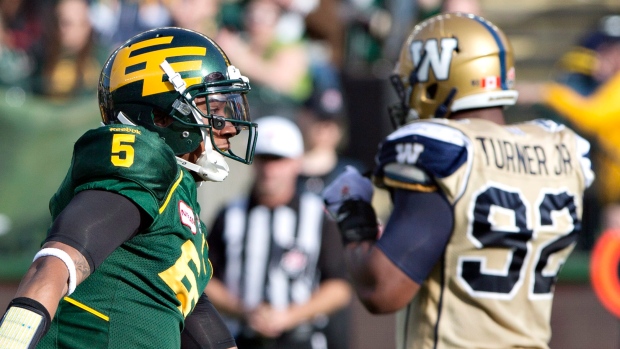 EDMONTON - Pat White's days with the Edmonton Eskimos are over.
The CFL club announced Thursday the six-foot, 205-pound quarterback has retired after just one season in Edmonton.
White completed 5-of-9 passes for 54 yards with a TD last season while rushing for 159 yards on 45 carries (4.5-yard average) and four touchdowns.
The six-foot, 190-pound Alabama native enjoyed a banner college career at West Virginia, passing for 6,049 yards and 56 TDs while running for 4,480 yards and 47 touchdowns.
White was selected in the second round of the '09 NFL draft by the NFL's Miami Dolphins before being waived Sept. 4, 2010. He agreed to join the Washington Redskins on April 2, 2013 but was released Sept. 14.
White signed with Edmonton on March 27, 2014.