Rays get to Estrada in victory over Blue Jays
Blake Snell earned his first victory in nearly a year and the Tampa Bay Rays continued their dominance over Marco Estrada in a 6-4 win against the Toronto Blue Jays on Tuesday. Estrada has lost all four of his starts against the Rays this season.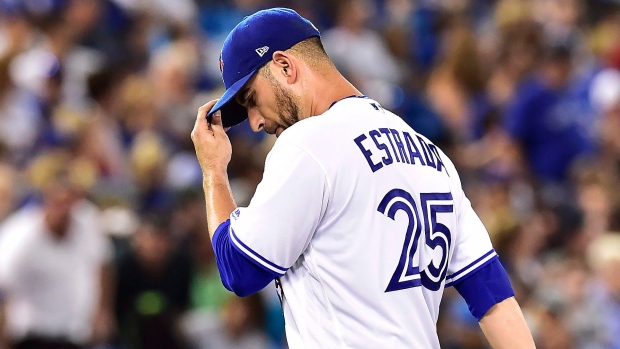 TORONTO — The Tampa Bay Rays have had all kinds of success against Marco Estrada this season.
After another loss against them Tuesday night, the Blue Jays right-hander was left searching for answers once again.
Estrada allowed two homers among 10 hits and walked back-to-back batters with the bases loaded in Toronto's 6-4 loss to its division rivals — Estrada's fourth against the Rays in four starts this year.
"They find a way against me, just one of those teams that has my number," Estrada said. "I haven't been able to figure them out. It's unfortunate.
"I felt OK today. I felt like I made decent pitches and next thing you know I'm down six runs — it sucks. I've got to see what's going on, find out why this team has so much success against me but it is what it is. I've got to make better pitches, I guess."
Estrada (5-8) snapped a streak of four strong starts, allowing six runs through 4 1/3 innings. The 34-year-old, who had posted a 2.08 earned-run average over his last four outings, also walked four and struck out three.
He has given up 22 earned runs over 18 2/3 innings against the Rays this year.
Tuesday's outcome may have been different for Estrada, though. Tampa took a 6-1 lead in a regrettable fifth inning that saw Rob Refsnyder botch a double play ball and Kevin Pillar lose a pop fly in the darkening centre-field sky to load the bases.
Estrada, who admitted to losing focus after that, walked in the next two batters.
"I'm upset at myself for letting it get to me," Estrada said. "I know everybody's trying hard, I'm trying hard. Everybody knows the team has given me a hard time and when some of those plays aren't made it's hard to let it go sometimes.
"Normally I don't really think about that stuff. ... But today it obviously affected me and I walked the next two guys in. That's really all I'm upset about is the way I handled it after. There's no excuse for that."
Manager John Gibbons also rued his team's defensive miscues.
"We had a tough inning," Gibbons said. "We didn't turn two on that line drive and then Kevin lost it in the twilight — that's a tough sky, that happens — but it opened up the inning. Overall it didn't look good but (Estrada's) stuff was good."
Blake Snell (1-6) earned the win, his first in nearly a year, working six innings and allowing four runs on seven hits, one walk and four strikeouts. The 24-year-old lefty hadn't won a game since Sept. 22, 2016.
Lucas Duda and Wilson Ramos hit homers off Estrada, and Corey Dickerson added an RBI single to help Tampa Bay (60-61) snap a four-game losing streak. Alex Colome pitched the bottom of the ninth for his 35th save.
Josh Donaldson hit a three-run blast and Pillar drove in a run for the Blue Jays (57-62), who halted a three-game winning run.
The Jays started the day 3 1/2 games out of a playoff spot.
"I know we're creeping up a little bit and we're kind of close to that second wild-card spot so losing a game like this hurts even more," Estrada said.
Donaldson cut the deficit to 6-4 with his 18th homer of the year, a three-run shot off Snell in the fifth that sparked thunderous cheers from the 33,718 in attendance.
Steve Pearce scored the game's first run, coming in on Pillar's second-inning double, but Duda put Tampa on the board with his two-run shot in the second inning.
The Rays scored two more in the fourth on Ramos's solo shot and Dickerson's RBI single.
Toronto left-hander Tim Mayza, called up from triple-A Buffalo on Monday, made his MLB debut in a scoreless ninth inning, allowing two hits and striking out one.
"It was pretty much everything I could have dreamed of," said Mayza, who had his parents, sister, brother, girlfriend and his college coach in the stands. "It was a great experience."
NOTES: Claire Eccles of Canada's women's baseball team threw out the ceremonial first pitch.