Estrada extension makes sense for both sides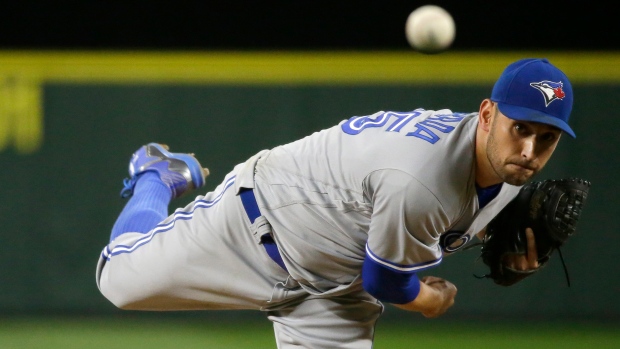 Whether he was pitching well or pitching poorly, Marco Estrada was telling everyone who would listen he wanted to stay in Toronto.
As it turns out, Estrada will get his wish.
With the 34-year-old agreeing to a one-year contract extension, reported by MLB Network insider Jon Morosi to be worth $13 million for 2018, the deal immediately looks like a win-win for both sides.
The Blue Jays get a reliable starter with very little commitment attached to help their push to get back into contention next season. Estrada gets the comfort of once again pitching in a place he's happy, at the same time allowing himself to rebuild the value that was lost when he pitched to a ghastly 8.87 ERA over a 10-start span from June 1 through July 26 this season.
In 10 starts since, it's been vintage Estrada, as he's gone seven or more innings five times to run up a 3.75 ERA, a number right in line with the Mexico native's 3.81 career mark in a Blue Jays uniform.
The 2017 season didn't go as planned for the right-hander, and it's the Jays who will benefit most, getting a legitimate mid-rotation arm signed for next season at less than the $14 million they're paying him this year.
If you consider the lack of reasonable depth options on the free-agent market this winter – Kansas City's Jason Vargas, Chicago Cubs veteran John Lackey, Texas Rangers righty Andrew Cashner, and San Diego lefty Clayton Richard are just a few of the names teams will be sifting through – and the Jays' need for at least two rotation-worthy arms, bringing Estrada back makes all the sense in the world.
Last winter, the Atlanta Braves gave relic Bartolo Colon $12.5 million for one year. At the same time, Edinson Volquez was getting $11 million per season over two years from the Miami Marlins coming off a 5.37 ERA.
Estrada seems like a safer bet than either of them, and his comfort level in Toronto isn't just a quality of life thing, either.
In 42 career starts at Rogers Centre, he's pitched to a 3.65 ERA, a well above-average number when you consider the ballpark's reputation as a launching pad.
He also has a track record of success against every AL East opponent not named the Tampa Bay Rays, which is worth something.
Heading into 2018, it's Marcus Stroman atop the rotation, J.A. Happ and Estrada behind him, and then a whole lot of question marks.
If Aaron Sanchez can find a way to overcome his blister issues and continue on the path that had him emerging one of the best starters in the American League, the Jays will be sitting pretty, needing only to build depth and find a reliable fifth starter.
Currently, the Joe Biagini experiment is still ongoing, while there's a group of young starters at Double-A and Triple-A working their way into the conversation, something that wasn't the case in 2017 as the Blue Jays rotated through a host of uninspiring veteran spot starter options.
Maybe Brett Anderson is the answer if he decides to come back as a free agent, or maybe they hit on a buy-low reclamation project.
Either way, because of the uncertainty surrounding Sanchez, the depth chart has to run six deep with legit options entering spring training.
Estrada's re-signing is the first step towards that.
If Estrada's two-month blip this summer never happened, it wouldn't have been enough to save the Blue Jays' season.
But it definitely saved the Blue Jays from having to scramble to fill another rotation spot for 2018, and it probably saved them some money, too.