Ex-NHLer Scott tries acting, ponders next move
Not a lot of things rattle John Scott. Come on. He was a 6-foot-8, 260-pound NHL enforcer. Then he tried acting — and was terrified.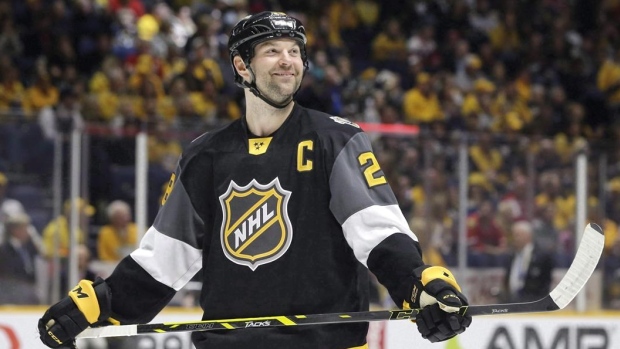 Not a lot of things rattle John Scott.
Come on. He was a 6-foot-8, 260-pound NHL enforcer.
Then he tried acting — and was terrified.
"It's a different kind of nerves," Scott said. "I've been in front of big stadiums, I've fist-fought tough guys and that's nerve-wracking. It's so much different walking on to a stage where you're the new guy and you don't really know what to do."
The lovable lug who made headlines for fans voting him into the 2016 NHL All-Star Game and then winning MVP honours is now 35, retired and considering his next move. Although Scott enjoyed taping an episode of the CBS drama "S.W.A.T." and will likely make a cameo appearance in the movie about his story, "A Guy Like Me," he won't star as himself or pursue an acting career.
"I don't even know if I'm good, so I could just be terrible," Scott said by phone Monday. "I think it went well, but I was super nervous and uncomfortable for the first like hour and a half, so we hopefully scrapped all those takes and used the good ones. But it was weird."
Right now, family is his focus after his wife, Danielle, gave birth to the couple's fifth child in late August. Scott said he's "just changing diapers, man," while he does some book signings and speaking engagements.
Scott's brief foray into acting came as a random happenstance when a current NHL player friend couldn't do the "S.W.A.T." episode because of training camp. A relationship with a producer's brother got him an audition. The veteran of eight NHL seasons and 44 fights nailed his lines and then taped the episode in which he played a hated opposing player who needed protection while in town.
"I had no idea the amount of work that goes into doing a television show," Scott said. "I just figured you wrote the script and there was a couple of guys with cameras and you just go on set and then you go. It's amazing the amount of people and the amount of work and the effort that goes into doing even one take."
Scott plans to rent out a room at a bar or restaurant to watch the episode with family and friends when it airs Nov. 30. Beyond that, he hasn't thought much about where life will take him.
"That's the question of the day my wife's been asking me about that for the last two months," Scott said. "I'm just trying to find something where I can stay at home and be with the kids. ... I don't really know. I'm just trying to take it as things come."
Another former enforcer, George Parros, recently became head of the NHL's Department of Player Safety. Similar to the Princeton-educated Parros, Scott has an engineering degree from Michigan Tech and was long considered by teammates and coaches as one of the smartest guys in the locker room.
Scott being voted by fans into the All-Star Game was followed by a trade from Arizona to Montreal and a demotion to the minors. His wild ride had a happy ending as he was carried off on teammates' shoulders after winning the All-Star 3-on-3 tournament, yet Scott doesn't think he's a favourite at NHL offices.
"I don't think the league's going to hire me, to be honest with you," Scott said. "I would like to maybe get into coaching, but I'm still so many years off. I couldn't leave my wife with these five kids, so that stuff is a pie in the sky right now."
In other words, stay tuned.
___
Follow Hockey Writer Stephen Whyno on Twitter at https://twitter.com/SWhyno
___
More NHL hockey: https://apnews.com/tag/NHLhockey