Ferraro: How to survive an expansion season
Ray Ferraro, TSN Hockey Analyst
Ferraro FaceTimes with Jay and Dan
You don't have the luxury of being picky when you're an almost 35-year-old hockey player coming off multiple knee surgeries. If you want to keep playing you have to be willing to go wherever there's an opportunity. Every team is on your radar. That's how I ended up in Georgia for the inaugural season of Atlanta Thrashers hockey.
Free agency came and went for me in the summer of 1999 after four years with the Kings. I knew no one was going to sign me the first week, and my agent was still talking to a bunch of teams into early August. Despite my knee issues, I knew I wanted to keep going. I trained that summer as if I was going to play. Atlanta ended up offering a two-year deal, which was good for me. I felt like I was going to need part of the first year just to get healthy again.
Usually there were 40-45 guys at the start of training camp. We had about 75. It was an enormous camp and none of us had any idea what to expect. We just showed up in Orlando. You might think a blank slate like that makes it easy to build your own team chemistry, rules and culture, but the problem was the roster was so transient. I couldn't even tell you how many different guys were on the team at some point that first year. Guys that I'd never even heard of were showing up at morning skates. It was a complete mishmash from start to finish.
Steve Staios, who went on to have a lengthy NHL career as a defenceman, was one of my wingers for a stretch. We were all over the map. I played with guys who were just coming into the league and guys who were on their way out. We had five or six different goalies. Those poor guys­, whether they were good, bad or otherwise, didn't have a chance – not with us playing in front of them.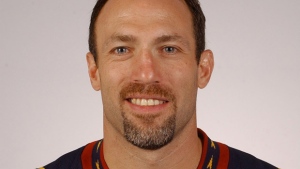 Atlanta was a funny place to play because there's so much going on in the city. The first indication was seeing all of these bumper stickers around the city with 99 on them. That wasn't for Wayne Gretzky, it was for NASCAR driver Jeff Burton. Georgia Tech football and high school football were really popular too – and that doesn't even factor in the pro teams like the Braves and Falcons.
I didn't feel like there was a lot of excitement about our season starting. People knew about it because it was something new and there had been some promotion and Turner Sports was the first owner, which carried a lot of weight. But it was always going to be a tough place to make a mark. The fact that we were so bad was the other problem. I mean, who the hell is going to come watch a team that never wins?
As a player, you always think that if you put in the work and everything goes right you have a chance to win. The schedule didn't do us any favours out of the gate. We went winless in our first three games at home against really good teams.
I remember sitting after a game about six weeks in that we lost 4-2 or 5-3, thinking that we couldn't possibly have played any better. We played our best game but we just didn't have enough. It almost becomes this heavy blanket you carry around. No matter how well you play, in most cases it just isn't good enough. It's a brutal feeling. You're happy to be in the league, but it's like going to work every day and having the door slammed in your face. That's how the games felt sometimes.
We had a 16-game winless streak at one point that felt unending. You start looking at the schedule, wondering who you might be able to beat. I certainly didn't think it would be Colorado, who had Sakic and Forsberg. The day the streak ended was the 20th anniversary of the Miracle on Ice. I remember the TV in the dressing room had a bunch of stuff on about what that moment meant to U.S. hockey. Then we went out and beat that amazing Avs team.
I did an interview right after the game because I was involved in the winning goal and said, "People have been talking about the Miracle on Ice today. Well, that was great, but this was the real miracle right here." I ended up getting a great voicemail about it from Al Michaels, who of course made the famous "Do you believe in miracles? Yes!" call on ABC. I kept that one on my phone for a long time.
We weren't the best team, but I had so much fun in Atlanta. It was a terrific group of people. Mike Stapleton is quietly a hilarious guy. Andrew Brunette is one of my all-time favourite teammates. Chris Tamer and Jeff Odgers are outstanding guys.
I ran into Mike on the street in Montreal last year during the World Juniors. We ended up standing in the rain for about 20 minutes laughing our asses off about those Thrashers days. It's just different than the other places I played during my career. We called ourselves the T-Bombs and travelled on a plane known as the trash can because it was so old and beat up. There are stories upon stories with those guys that made getting your teeth kicked in bearable. I look back at that time fondly.
I learned just how much I loved the game. I had lost a bit of that passion while I was in Los Angeles. Atlanta brought it back.
My sense is that Vegas is way, way more organized than we were in Atlanta. George McPhee has been a general manager in the NHL for a long time. Gerard Gallant has coached in the league for a significant period of time. Our general manager and coach were in their roles in the NHL for the first time. Guys have been down there skating this summer and getting to know the community.
It's going to be a different experience in Vegas, but I'd tell the Golden Knights players to just focus on the day in front of them. You can look around the room at the 23 guys who start the season and know that half of them won't be there for the second season. They put this roster together to start, not to stay together.
All you can worry about is making sure you take care of the immediate steps in front of you so you get to stay and grow your NHL career. If you get caught looking at the big picture, some other guy is going to push you out the door.
My other piece of advice is to enjoy it. Whether your team is good or not, enjoy it. You're going to have incredible experiences with guys you've never come across before. All of the sudden these guys are your teammates and some of them might end up becoming your best friends.
Signing with an expansion team certainly wasn't in the forefront of my mind that summer, but you have to remember that the league added a number of teams in the '90s. In some ways, signing with the Thrashers felt just like signing with any other team. I had no illusion that the team was going to be great, but I didn't think we were going to win 14 games. We ended up being one of the worst teams in NHL history.
I remember flying to that first training camp and reading these little blurbs in USA Today on each team, looking at the notable players. It said Atlanta's offence would be led by me and Nelson Emerson. Nelson was sitting a row behind me on the plane. I turned around to look at him and said, "If we're the best they've got Nelly, we've got some problems."