Fighting continues to fade from NHL
An incident in Friday's game between the Jets and Wild perfectly encapsulates how the NHL has, for all intents and purposes, eliminated fighting, Travis Yost writes.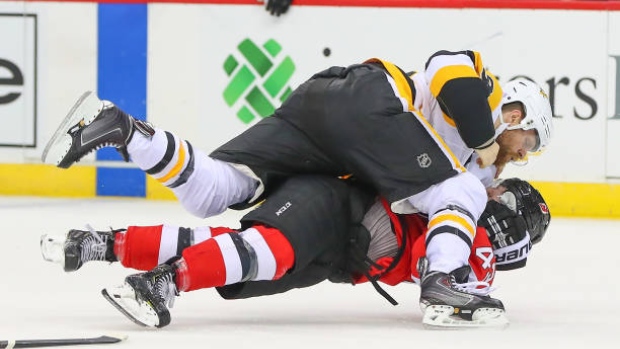 "That's old-time hockey right there."
So said Minnesota Wild head coach Bruce Boudreau after an interesting turn of events near the Winnipeg Jets' bench on Friday night. The Jets and Wild battled in a game that was ultra-competitive (Minnesota would go on to win 4-2) and highlighted by a number of sensational individual plays.
But the sequence that probably ended up getting the most attention came late in the third period. The in-game feistiness ended up spilling, literally, into the Winnipeg bench. Nick Seeler, Adam Lowry, Jordan Greenway and Ryan Suter were all assessed roughing penalties after a skirmish between the two teams.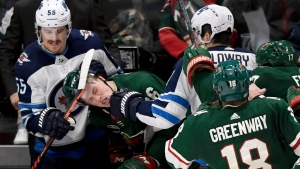 For a moment, it felt like a game from another era. It's become increasingly rare to see that type of physicality after the whistle, especially with more than two combatants. But the incident also perfectly encapsulated how the National Hockey League has, for all intents and purposes, eliminated fighting.
Despite both teams getting into it, not a single player was handed a fighting major. We can debate whether or not the officials should have been more aggressive in assessing penalties, but the reality is that both sides were pretty disciplined considering the circumstances. There was a lot of pushing, shoving, face-washing and grappling, but there really weren't any punches thrown.
That's become a common theme in the modern era of hockey. The league has wrestled with the role fighting should play for years, largely because of how complex the issue is. Catch the league office one night and you will hear about how fighting can actually help 'cool things down' when the game is starting to spiral out of control.
At the same time, the league will point out that fighting is naturally evolving out of the sport, with teams focused on assembling rosters that are high on talent and low on unnecessary physicality. (Add this to the fact that a myriad of concussion lawsuits, some of which are not settled, continue to claim that the league hasn't done enough to protect their constituents from head trauma.)
The minimization of fighting in the National Hockey League is a real phenomenon. Through Sunday, the 2018-19 season has brought just 0.2 fights per game. How small of a number is that? Well, 30 years ago the league was seeing 1.3 fights per game. Since then, it's been an almost perfectly linear downward trend: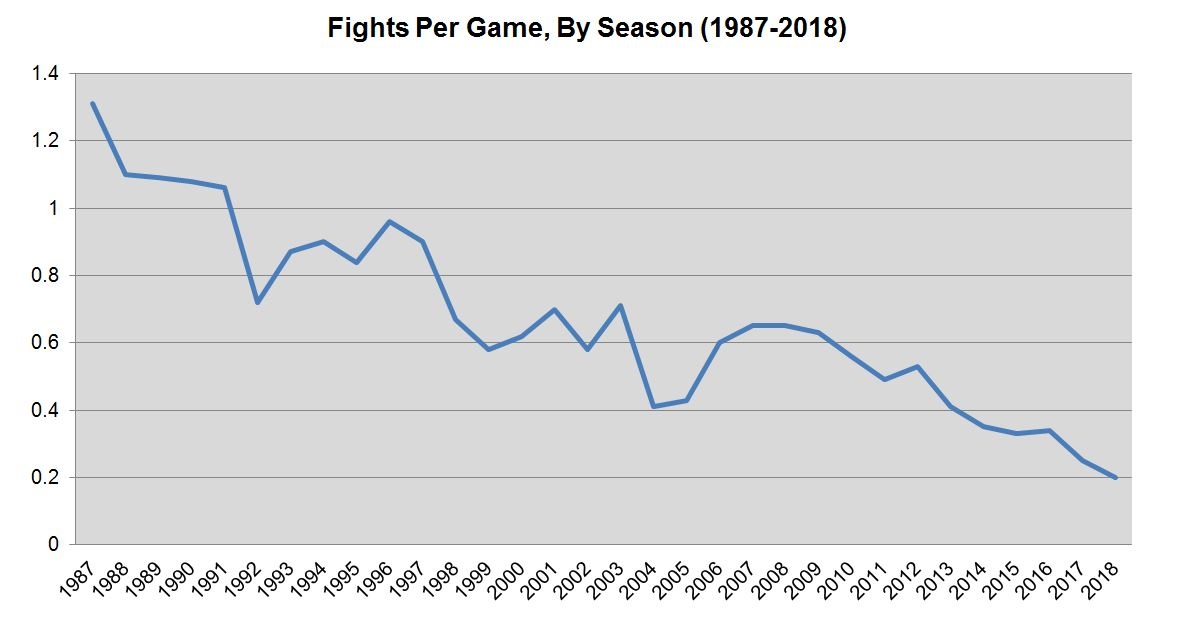 It's a fascinating development, no question. And although it seems like it's been a slow death, it's really been accelerated in recent years. Compared to last season, the NHL has cut fighting's incidence rate by 20 per cent. Compared to 10 seasons ago, the NHL has cut fighting's incidence rate by 68 per cent. These are massive reductions, any way you look at it.
It's worth noting that we are seeing similar trends in other leagues. Consider the Ontario Hockey League, which initiated a major fighting crackdown two years ago. Fights per game are hovering just above 0.2 this season, right around the NHL number. Ten seasons ago, the OHL was seeing nearly a fight (1.0) per game. That's an 80 per cent reduction in one of the NHL's most critical developmental leagues. Add that to the fact that the NHL continues to tap into European talent streams – another segment of players who are playing in leagues with comparably stringent fighting rules – and you have a full-blown culture change at most levels of hockey.
It's not just a handful of NHL teams leading the charge, either. More than a third of the league has had three or fewer fights this regular season – a regular season that's about 30 per cent concluded. The Arizona Coyotes have yet to be involved in a single fight. If that's hard to believe, consider this: The Philadelphia Flyers, who have built a reputation as being the league's most physical franchise, have just two fights this season.
Just a few years ago, it felt like there was still a very real 'fighting debate' in hockey. Sitting here today, I'm just not sure it exists anymore. We may not see a league that has eliminated fighting altogether, but players, coaches, and front offices have already opined and concluded on the matter. The incentives sprinkled around the league to ice the most skilled teams that only play whistle-to-whistle vastly outweigh any advantages that come from fighting.
For as long as those incentives remain, fighting will continue to dissipate.