Finding blueline help deep in free-agent market
Zach Redmond and Matt Irwin are cheap third-pairing guys who might be able to provide a team with a unique wrinkle or two, Travis Yost writes.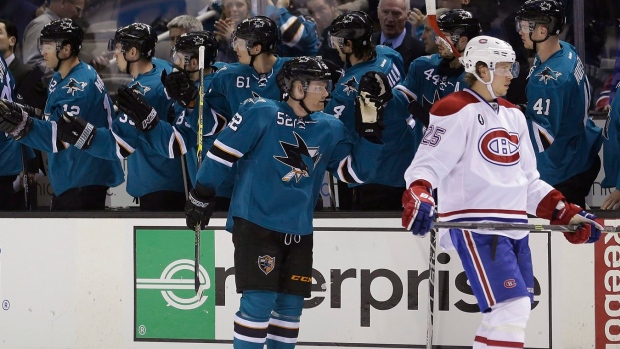 Unrestricted free agency hasn't even formally opened up yet, and already two of the biggest blueline names are off of the market.
Keith Yandle and Alex Goligoski – after having their rights moved from their former teams last week – have inked long-term deals with Florida and Arizona, respectively. It's assumed that another big UFA fish, former Panthers blueliner Brian Campbell, is preparing to sign a deal with Chicago.
In terms of big unrestricted defencemen left, it's about Jason Demers and Dan Hamhuis. That lack of depth is not going to stop teams from combing through the rest of the pool. After all, each team is going to carry seven or eight defenders, and most rosters right now need at least one extra body.
The question that generally comes up in these instances is really about differentiation. How can you spot a capable fifth defenceman and isolate him from a group of six or seventh defenders? It's not an easy exercise – certainly not as easy as we have it with forwards, where individual point scoring can reasonably capture player talent by itself.
One of the things I use for differentiation purposes is the application of multi-year z-scores, which lets us grade defencemen against one another using multiple criteria. To me it's a necessary exercise, particularly since our evaluation of defenders really does need to span multiple performance metrics.
Here, we will use z-scores to compare individual defencemen against all other league defenders another using six statistical measurements: team relative impacts (both for and against) on shot differential and goals, individual point scoring, and individual shot generation. Thus, a player with an average z-score of 100 per cent would be better than all peers in all measurements; a player with an average z-score of 0 per cent would be worse than all peers in all measurements. (We are going to use relative stats only to make apples-to-apples comparisons for many players operating in different environments – otherwise, a sixth defender on a possession/goal juggernaut like Los Angeles or Chicago would appear significantly more impactful than even a third or fourth defender on a team like Edmonton. This is, by and large, quality of teammate impact.)
Through this, we can grab a z-score for every unrestricted free agent remaining and compare him against replacement level, which we will consider anything between 0 and 10 per cent. Here's how the current free agent pool plays out: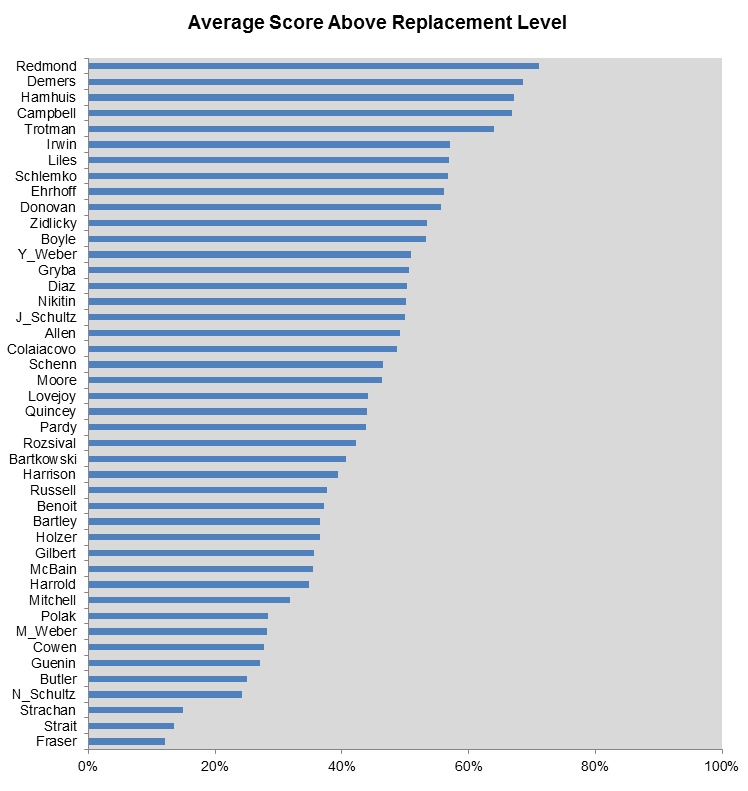 At quick glance, I think this passes the smell test. Your top five consists of at the three guys we think will command the biggest deals – Demers, Hamhuis and Campbell. At the other end of the spectrum are guys who will likely be washing out of the league in Mark Fraser and Brian Strait. (It also passes the smell test in the sense that none of these guys are broaching great or elite status – top-tier defenders like Mark Giordano, Oliver Ekman-Larsson, Victor Hedman, and Erik Karlsson lead the pack between 85 – 95 per cent range against their peers.)
Who catches your eye? For me there are two names in particular that might be worth digging into deeper: Zach Redmond of Colorado and Matt Irwin of Boston.
Let's go micro-level to observe strengths and deficiencies. Here is how both grade out on a z-score basis for our six metrics. (We'll also bring in raw rates now to see if it tells us anything unique.)
Let's bring in all three (and we'll bring in our raw shot and goal differentials too) for comparison's sake. Through this, we can see each player's purported strengths and weaknesses, and what that means for their career going forward.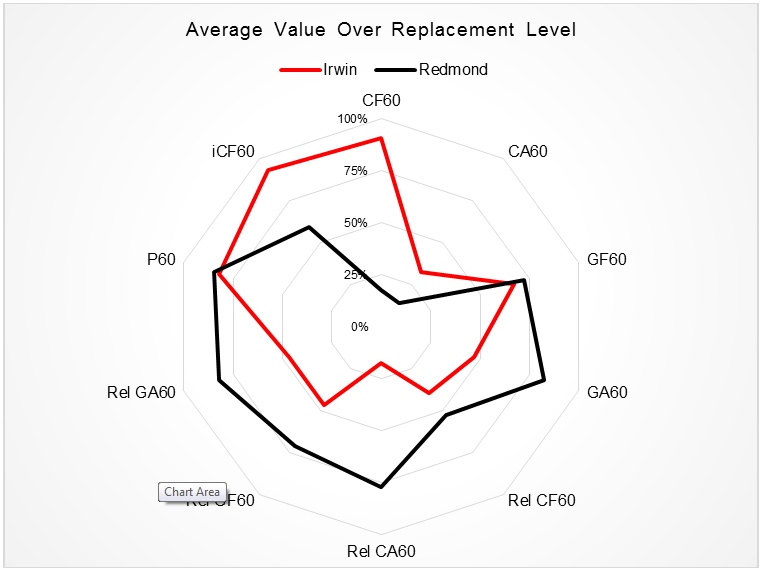 It's hard to look at these numbers and think either of these guys aren't NHLers. Yes, Irwin may be pretty one-dimensional, but what he adds offensively seems to be offsetting his defensive inefficiencies and then some. Redmond doesn't have wild disparities, but in most performance metrics, he grades out average or better. There are not a lot of holes in his game.
The funny thing about both of these players is that despite their generally impressive 5-on-5 performances over the past few years, they have spent significant time toiling in the American Hockey League. Redmond split last year between San Antonio and Colorado despite the Avalanche's incredible blueline struggles. Irwin spent the vast majority of the season in Providence after a couple of grisly early-season games with a Zdeno Chara-less Bruins squad. Despite team struggles across the board, Irwin was the one who took the bullet once Chara returned from injury, and was never heard from again. He went on to score 30 points in 64 games with Providence last year.
Neither of these players are sexy signings – in fact, both of these players are almost certainly third-pairing guys who might be able to provide you with a unique wrinkle or two on the special teams front. But the larger point here is that there are valuable players still toiling around; potentially undervalued and miscast by their prior teams, and almost certainly going to arrive on their new team on a cheap and team-friendly contract.
For any team looking to build out the back-end of their blueline with an experienced NHLer on a one or two-year deal, I'd start with a player like Redmond or Irwin. These guys have been quality at the NHL level when given opportunity and grade out better than their peers regardless of the criteria feeding your analyses.
That's doubly important when you consider how many teams are already up against the salary cap of $73 million. Just because a team doesn't have the financial wherewithal to land a Campbell or a Hamhuis doesn't mean they should sit on their hands and pray an AHL call-up develops overnight.