Firebirds owner suspended after firings
Frank Seravalli, TSN Senior Hockey Reporter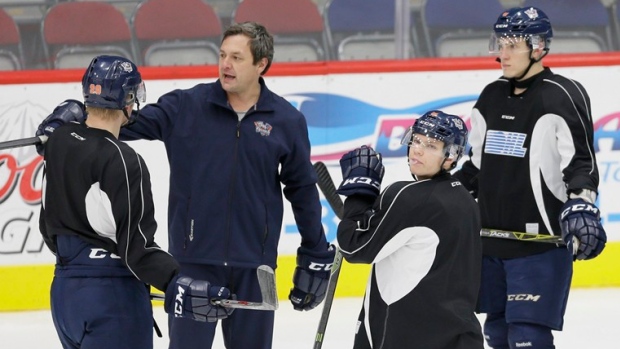 FLINT, Mich. - The OHL barred Flint Firebirds owner Rolf Nilsen and his representatives from all hockey-related operations on Thursday, one day after Nilsen fired head coach John Gruden and his assistant, Dave Karpa, for the second time this season.
The suspension, enacted by OHL commissioner David Branch "until further notice," also includes Nilsen's appointed interim head coach, Sergei Kharin.
Kharin, 52, had been scheduled to coach the Firebirds on Thursday night against the league-leading Erie Otters, but general manager Joe Stefan stepped in behind the bench as the Otters beat the Firebirds 5-2.
The Firebirds were also scheduled to hold a morning skate on Thursday at Dort Federal Credit Union Event Center. The only player to arrive at the rink on Thursday morning was Hakon Nilsen, son of owner Rolf Nilsen, and he left the arena in street clothes shortly after 11 a.m., when the practice was scheduled to begin.
No member of the Firebirds' staff - including Nilsen, president Costa Papista or VP of hockey operations Terry Christensen - was available for comment. Nilsen is in town ahead of a Detroit Red Wings alumni game, scheduled to be played in Flint on Friday.
A successful Norwegian businessman, Nilsen purchased the OHL's Plymouth Whalers last year for a reported $8 million from Carolina Hurricanes owner Peter Karmanos Jr., and moved the franchise north to Flint. The purchase was approved by the OHL on Feb. 2, 2015.
Nilsen fired Gruden and Karpa, who both played in the NHL, following a Nov. 8 win because his son was not receiving enough playing time. Gruden and Karpa were each given new three-year contracts when they were reinstated on Nov. 9 after Nilsen met with Branch. It is unclear what led to Wednesday's dismissal.
"The Ontario League takes the health and well-being of our players very seriously," Branch wrote in a statement on Thursday. "The recent actions by the owner of the Flint Firebirds, Rolf Nilsen, and his representatives on the management team and coaching staff is of great concern as they pose a serious threat to our commitment to our players and families."
In addition to barring Nilsen and his appointees from hockey-related operations, the Firebirds were ordered to provide counselling services for players at the cost of the team and under the direction of the OHL.
Nilsen and his staff were also ordered to cooperate with Branch and the OHL during investigations into the conduct and actions of the Flint Firebirds and its representatives, employees, officers and directors.
Branch vowed to "take any action and impose any sanctions" deemed appropriate.
Branch was headed to Flint on Thursday and scheduled to meet with Firebirds players to further discuss the situation and to "ensure they are provided the appropriate support."
In the wake of November's turmoil, three of the five NHL prospects on the Firebirds' roster made their way out of town. Multiple players requested trades through their agents.
Carolina Hurricanes draft picks Josh Wesley and Alex Nedeljkovic were traded to Niagara in December. Wesley, a defenceman, is the son of former Hurricane Glen Wesley. Nedeljkovic backstopped Team USA to a bronze medal in the World Junior Championship last month.
New Jersey Devils third-round pick Connor Chatham was also moved to Windsor last month.
Other players who stayed, like promising Detroit Red Wings third-round pick Vili Saarijarvi, are now mired in a three-ring circus. Leading scorer Will Bitten, who has 51 points in 52 games, is a 17-year-old forward eligible for June's draft. Bitten's production has suffered with the weakening of Flint's roster; he began the year with 23 points in 17 games.
"It seems like [Flint ownership] is lost on the fact they have abrogated their responsibility to young players, their careers, and their futures," Saarijarvi's agent, Jay Grossman, said in a message on Wednesday.
Frank Seravalli can be reached at frank.seravalli@bellmedia.ca.