First look: Canada's 2016 World Cup team
With the management team set for the 2016 World Cup of Hockey, TSN Senior Hockey Reporter Frank Seravalli projects the 14 forwards, eight defencemen and three goaltenders who will represent Team Canada.
Frank Seravalli, TSN Senior Hockey Reporter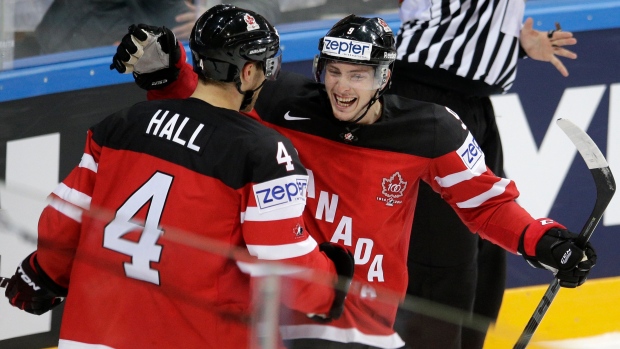 The first order of business for the man tasked with leading Canada to a third straight best-on-best world title may be his toughest assignment.
Doug Armstrong must decide on a head coach for Team Canada. Both Mike Babcock, winner of back-to-back gold medals at the Olympics, and Joel Quenneville, with three Stanley Cups in the last six seasons, are at his disposal.
Then, after that, Armstrong will pick a hotly debated lineup.
No sweat, right?
Armstrong is officially taking the reins as Hockey Canada's executive director for the 2016 World Cup of Hockey this morning. Steve Yzerman stepped down after delivering gold medals at the 2010 and 2014 Winter Olympics.
Armstrong, 50, served on the management team under Yzerman in both Olympiads. He will be assisted by Detroit's Ken Holland, Montreal's Marc Bergevin and Los Angeles' Rob Blake, Anaheim's Bob Murray and Scott Salmond of Hockey Canada.
The Toronto-based eight-team World Cup of Hockey, reincarnated for the first time since Canada topped Finland in 2004, includes a North American young stars squad and a pan-European team made up of players not from the six major hockey-playing countries: Canada, USA, Czech Republic, Finland, Russia and Sweden.
What will Canada's 2016 World Cup of Hockey roster look like?
A lineup of 16 players must be submitted eight months from now, by March 1, 2016. The balance of each 23-man roster will be named no later than June 1, 2016, with training camps opening on Sept. 4, 2016.
One wrinkle still to be ironed out is the exact age qualification for North America's young stars team. NHL deputy commissioner Bill Daly told TSN.ca the official birthdate cutoff for the team has not yet been set. Any player who falls in the younger category, believed to be 23-and-under by the time the tournament begins, will not be available to be selected by Team Canada or Team USA.
In other words, 18-year-old Connor McDavid is not eligible to play for Team Canada.
Here's an early projection of Canada's roster.
FORWARDS (13)
Jamie Benn
Sidney Crosby
Matt Duchene
Ryan Getzlaf
Claude Giroux
Taylor Hall
Ryan Johansen
Ryan O'Reilly
Corey Perry
Tyler Seguin
Steven Stamkos
John Tavares
Jonathan Toews
DEFENCE (7)
T.J. Brodie
Drew Doughty
Mark Giordano
Duncan Keith
Alex Pietrangelo
P.K. Subban
Shea Weber
GOALTENDERS (3)
Corey Crawford
Braden Holtby
Carey Price
Other forwards: Patrice Bergeron, Jeff Carter, Logan Couture, Jordan Eberle, Brendan Gallagher, Brad Marchand, Rick Nash, Jaden Schwartz.
Other defencemen: Tyson Barrie, Brent Burns, Kris Letang, Jake Muzzin, Brent Seabrook, Marc-Edouard Vlasic
Under-23 ineligible: Aaron Ekblad, Dougie Hamilton, Nathan MacKinnon, Connor McDavid, Sean Monahan, Ryan Nugent-Hopkins, Morgan Rielly.
Frank Seravalli joins TSN.ca from the Philadelphia Daily News, where he covered the Flyers for six seasons. He can be reached on Twitter at @frank_seravalli.