Five things in Blue Jays' disappointing season that mattered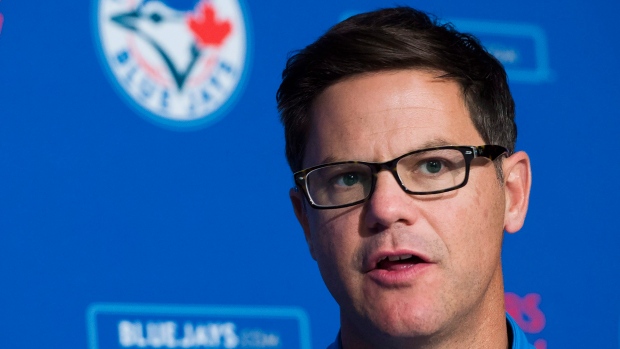 Finishing 10 games under .500 means there's work to be done.
Lots of it.
When Toronto Blue Jays general manager Ross Atkins addressed the media Tuesday to talk about what went wrong in 2017, he did nothing to hide that fact.
Injuries all over the roster, poor performances by a number of key veterans, and an overall lack of organizational depth all conspired to send the Jays home early for the first time since 2014.
Atkins, who will be on the job for two years this December, touched on everything from how they plan to fix the roster this off-season, what he expects from many players looking to bounce back in 2018, and the development of the minor-league system over the course of the year.
Here are five things that mattered from the conversations with Atkins on Tuesday:
Jose Bautista's mutual option will be declined
The writing has been on the wall almost since the day the contract was signed, but Atkins confirmed Tuesday that Bautista was informed a couple of weeks ago his $17-million mutual option will not be picked up.
Not surprising after the soon-to-be 37-year-old slashed .203/.308/.366 in 686 plate appearances this season.
"We sat down with him a couple weeks ago and made him aware that we would not be picking up his option," Atkins said. "I don't believe in closing any doors and speaking in absolutes, but based on the construction of our roster we feel it's unlikely he's part of the solution moving forward."
The Jays are open to a long-term Josh Donaldson deal
Of course they are.
But that still doesn't mean the numbers will align in both term and dollars once they sit down at the negotiating table and talk contract.
Donaldson has indicated a desire to stay in Toronto if possible, but a long-term contract will be a significant investment and the process is just getting started.
"You're constantly thinking about what makes sense for the organization and you have to do that with more than one individual," Atkins said of the possibility of signing Donaldson long term. "Obviously, he's an extremely important one. We will definitely spend time thinking about that."
If they can't strike a long-term deal, Donaldson will become a free agent following the 2018 season.
Vladimir Guerrero Jr. could make the majors as a teenager
Guerrero will turn 19 in March, and Atkins did not rule out the possibility he's one of the rare talents that could play big-league baseball as a teen.
While it's not likely, especially considering Guerrero Jr. hasn't had an at-bat above the High-A level, the fact it could be a consideration in the second half next season speaks to how the organization views their prized possession.
"There's so many variables to that," Atkins said. "One is, first, his performance and how he's doing it. There's, two, where he's going to play and what the offset would be and whose position he would potentially be playing. There's not going to be much that will slow him down, as talented as he is. I think there's a place to be found for a bat that advanced and that progressive if he's suggesting that he belongs at another level.
"The likelihood that he impacts our 2018 team, I think, is very low, but at the same time, I would never put a ceiling or a limit on a player."
From an overall perspective, Atkins was very happy with the system's progress this year and there will be much more depth in the organization if injuries strike once again next year.
He specifically noted shortstop Richard Urena, catcher Danny Jansen, and outfielders Teoscar Hernandez and Anthony Alford as close to big-league ready players.
Positive reviews for manager John Gibbons
The contract extension that was handed to him last spring indicated Atkins likes what Gibbons is doing on the Blue Jays bench, and nothing has changed a few months later.
Injuries and poor performances couldn't be changed by a manager, leaving Atkins firmly in Gibbons' corner moving forward.
"We align in just about every day when it comes to treating people the right way and making sure that we're putting players in positions to have success," Atkins said.
"He's done a remarkable job of managing the bullpen. He's done a remarkable job of getting a core group of talent, two out of the last three years, into a near World Series team. He has a list of strengths that are long.
"We feel strongly that he's a part of our solution and I love going to work with him every day."
They won't just be tinkering this winter
At least they'll be trying to do more than just tinker with the roster construction.
Of course, it is impossible to talk in absolutes when it comes to signing free agents or making trades to acquire major-league talent, but Atkins said he wants to add significant talent this winter.
They need to improve an offence that finished last in the American League with 693 runs.
Atkins touched on the lack of overall team speed and athleticism as a problem, an area that was also a focus last off-season, only to see them end up with Kendrys Morales and Steve Pearce.
Defence and fundamentals, something Donaldson brought up Sunday before the finale in New York, are also issues.
As far as priorities go, Atkins has a lengthy wish list.
"The way that I think of it right now, if I had to answer that question, is add one impact arm and one impact position player, for sure," Atkins said. "We have to do that. Whether or not that impact position player is a right fielder or plays another position will depend upon all of those alternatives. We'll be open to trades, we'll be open to any possible way we can make our team better."​