Flames' Bouma closer to return than Giordano
Calgary Flames captain Mark Giordano and rugged right-winger Lance Bouma both participated fully in Thursday's practice at Scotiabank Saddledome and created a bit of a buzz in doing so. The truth is, however, Giordano remains unlikely to play in the near future. Bouma, though, could be set for a return.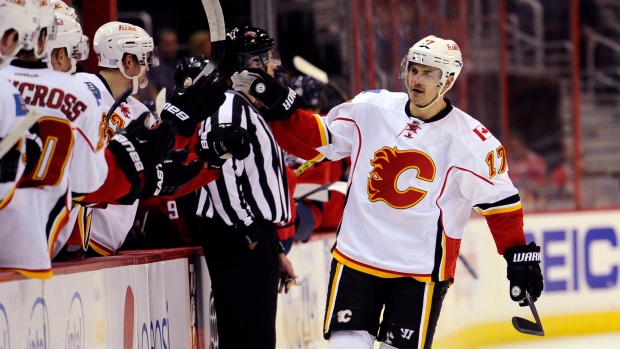 CALGARY - The truth about injuries in the NHL is even more elusive in playoffs, where watching practice is often the only indicator of who might play the next game.
So the sight of Calgary Flames captain Mark Giordano and rugged right-winger Lance Bouma participating fully in Thursday's practice at Scotiabank Saddledome created a bit of a buzz.
Giordano's surgery on a torn bicep March 4 was considered season-ending. The captain was not encouraging of the possibility he'll play in this series, and coach Bob Hartley has thrown cold water on the notion when asked the question almost daily.
"It's still pretty early with this type of injury, so we've got to be smart about it," Giordano said.
Bouma, however, looked closer to re-joining the lineup as he took line rushes with centre Matt Stajan and winger David Jones. The Flames company line is "day-to-day" and Bouma dutifully recited that. He also didn't stop smiling the entire skate.
"I feel like I'm ready, so we'll see," Bouma said. "It's really frustrating when you're skating on your own and you can't help the team out. To be able to get out there with the guys, it was huge."
The Flames trail the Anaheim Ducks two games to one in their best-of-seven conference semifinal. Game 4 is Friday at the Saddledome followed by Sunday's Game 5 in Anaheim, Calif. Game 6, if necessary, is Tuesday back at the Saddledome.
The six-foot-one, 210-pound Bouma would give the fast, skilled, but undersized Flames a measure of muscle while contributing offensively with 16 goals and 18 assists in 78 regular-season games. Bouma also led all Flames forwards in blocked shots this season with 82.
The 25-year-old from Provost, Alta., has yet to play his first career NHL playoff game. He suffered what is believed to be a hand injury blocking a shot in Calgary's last home game of the regular season.
Michael Ferland filled in admirably for Bouma in the first round of playoffs. Playing on Stajan's wing, he was a 40-hit, human wrecking ball in six games against the Vancouver Canucks. Ferland also had two goals and two assists in that series.
The burly winger hasn't played in a game since he was squeezed like an accordion in a four-player pileup behind the Ducks net in the first period of Game 1 in Anaheim. Ferland has practised this week, however.
The Flames need all the beef they can muster against the bigger, heavier Ducks.
"They're a good matchup for me," Bouma said. "Obviously I like playing against them. They're a big team and it's usually a good battle."
Stajan's line has shadowed Anaheim's top trio of Ryan Getzlaf, Corey Perry and Patrick Maroon. Perry's 14 points and Getzlaf's 12 top the league in post-season scoring.
The Flames have felt the absence of deterrents like Bouma and Ferland. The Ducks out-hit the Flames in a pair of wins to open the series at home before Calgary countered with 26 to Anaheim's 21 in Game 3.
"We did a good job of initiating and not being scared and playing our game," Bouma said. "That's something we've got to continue to do."
Given Calgary's woeful record in Anaheim's Honda Center — no regular-season wins and just one playoff victory since 2004 — the Flames need to continue their unbeaten post-season record at home Friday or face early elimination Sunday.
"You try and win your games at home," Jones said. "Obviously they have home-ice advantage, so you've got to win one there. Coming back 0-2, to get the win last game was a huge game.
"It's going to be equally important (Friday). We don't want to go back to their building 3-1."
Giordano weathered bumps from his teammates Thursday, but took few shots and none from long range. He bent over to catch his breath between drills and his was the sweatiest jersey in the group.
"I was feeling it for sure," Giordano said. "I've been given the green light to shoot a bit harder and try it out, so now it's just confidence with myself. I've got to get my strength up, get my shot up and take some more contact."
Notes: The Ducks practised a second day in Banff, Alta., on Thursday before returning to Calgary . . . Flames assistant general manager Craig Conroy interrupted Hartley's post-practice news conference to present him with an ice cream cake. Hartley was named a finalist for the NHL's coaching award the previous evening.