Flames F Tkachuk out vs. Oilers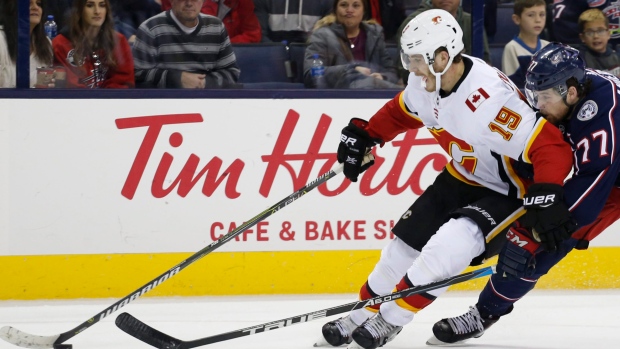 The Calgary Flames will be without winger Matthew Tkachuk for their crucial meeting with the Edmonton Oilers on Tuesday night.
Flames head coach Glen Gulutzan confirmed Tuesday that Tkachuk will miss Tuesday's game after an awkward fall against the New York Islanders on Sunday night.
Tkachuk appeared to hit the back of his head on the boards after getting tied with Islanders centre Mathew Barzal. He remained on the ice after the collision and left the game with the help of a trainer.
Gulutzan previously said he missed practice Monday for a maintenance day. He said Tuesday Tkachuk is day-to-day with an upper-body injury.
Tkachuk has 24 goals and 49 points in 68 games this season for the Flames, who sit two points out of the final wild-card spot in the Western Conference.
"He doesn't stay down unless he's hurt, so that's what is concerning," captain Mark Giordano told the Calgary Sun after Sunday's loss. "He is one of our top players. Every night, he creates. He creates power plays for us. He creates chances. He's just a big part of our team, a top-six guy. So hopefully he's OK."
Sam Bennett will play in Tkachuk's place on the Flames' second line, while Chris Stewart will return to the lineup.