Flames fighting uphill battle against regression
The numbers show Calgary remains a subpar 5-on-5 team that needs just about everything to break right, Travis Yost writes.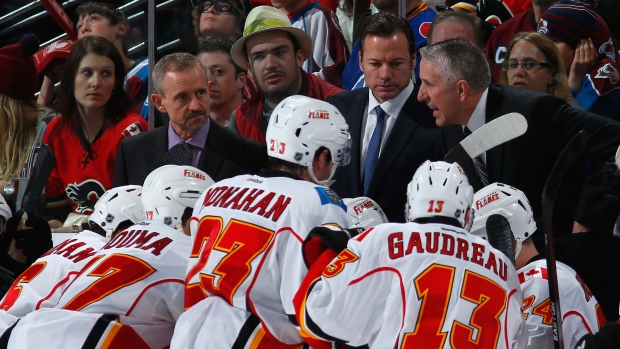 One of the most interesting debates of the hockey off-season concerned the Calgary Flames, and whether they did enough in terms of talent cultivation to offset likely regression in 2015-16.
Calgary's 1-4-0 start hasn't answered that question, but early signs from Bob Hartley's team indicate that the latter may – at least in the short-term – be winning out.
The optimism surrounding Calgary's impressive young core was and still is understandable. It's more than reasonable to believe that players like Dougie Hamilton, Johnny Gaudreau, and Sean Monahan (to name but a few) will continue to develop as talents. The mere fact that Calgary has these players in place and hasn't mortgaged much of anything for the future speaks to their ability to challenge in the Western Conference down the road.
But, in the immediate sense, this core group of Calgary players faces a very real uphill battle. Whether the front office wanted it to occur or not, a combination of a 97-point season and a first-round series win heightened expectations.
The 97-point season was, at least in part, something of a smoke and mirrors act. They scored 10 goals with the goalie pulled. The difference between their power play ice time and penalty kill ice time favourably exceeded two hours. They shot 8.9 per cent at even strength – more than a full point above the league average. Los Angeles, their nearest competitor in the playoff race, went 2-8 in the shootout. Small potatoes in the grand scheme of things, but it certainly helps to note these things as they come along, especially when you are trying to explain how an otherwise shaky team managed to amass 97 points in a single season.
I say otherwise shaky because the Flames of last season simply did not look the part of standard playoff contenders. Historically, we see the vast majority of playoff teams range between decent and dominant at even strength – out-shooting, out-chancing, and out-scoring their opposition over an 82-game window.
Last year's Calgary team had none of the three. Their puck possession problems were well documented – they controlled just 43.2 per cent of play, a number that only beat out a Buffalo Sabres team that was actively trying to lose. Their scoring chance differentials were a shade better (45 per cent), but still good for just 27th in the league.
What's also forgotten about this Calgary team is that they were out-scored at 5-on-5 last year (168 goals for, 175 goals against.) That goal differential put them behind the likes of Colorado and Philadelphia. I think people chalk up Calgary 2014-15 as a classic "play poorly and ride the percentages to a playoff berth" team, but it's only partially true. Even by raw goal counts, they were inferior to the majority of teams in the league.
Their 5-on-5 play continues to be a source of concern through the first five games. A quick look at their Corsi% and ScoringChance% splits, and you can quickly observe that little has changed:
Cooling Off
| Calgary Flames at 5-on-5 | | |
| --- | --- | --- |
| | 2014-2015 | 2015-2016 |
| Corsi% | 44.3% | 43.9% |
| Scoring Chance% | 44.7% | 42.4% |
So far, this season has just been an extension of what was observed a season ago. Their out-shot and out-chanced on a consistent basis, and barring multiple degrees of favourable variance in their direction, they are going to be in tough to consistently win at this level of competition.
Now, it's important to note that this is only driving a portion of Calgary's poor start to the season. Another driver (I'd argue a bigger one) is that their "percentages" have fallen off of a cliff. And much like we don't anticipate last year's numbers being as high as they were, we probably shouldn't anticipate these numbers being as low as they are:
Not So Hot
| Calgary Flames at 5-on-5 | | |
| --- | --- | --- |
| | 2014-2015 | 2015-2016 |
| Save Percentage | 92.1% | 88.4% |
| Shooting Percentage | 8.9% | 5.8% |
Did Calgary's forwards magically forget how to score goals? Did their goaltenders magically forget how to stop pucks? Highly unlikely. It goes to show you just how fleeting these numbers can be. It's awfully difficult to sustain high shooting percentages and high save percentages over long periods of time. It's significantly easier to sustain scoring chance differentials and shot differentials and goal differentials, because those are legitimate team skills and very repeatable.
The Takeaway
Calgary isn't this bad of a team. They are snakebit right now and they are without the services of one of their best players in T.J. Brodie. Regardless, this still has the feel of a subpar 5-on-5 team that needs just about everything to break right. Bob Hartley and the rest of the coaching staff need to take a very close look at what they're doing from a systems and usage level and apply adjustments as required. What they're doing right now just isn't working, and it hasn't worked for a couple of seasons now.