Flames GM anxious to lock up Giordano
There's one cheque Calgary Flames general manager Brad Treliving can't wait to write, but he's going to have to. Flames captain Mark Giordano has one year remaining on a five-year contract.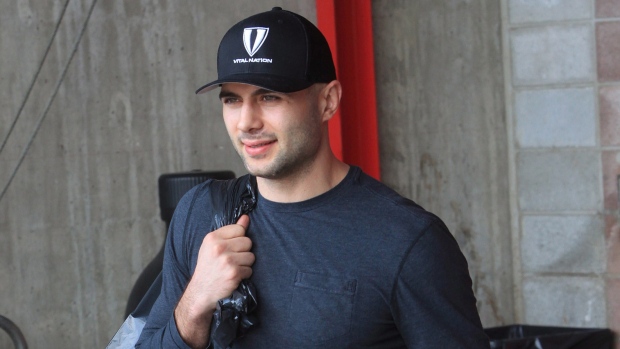 CALGARY - There's one cheque Calgary Flames general manager Brad Treliving can't wait to write, but he's going to have to.
Flames captain Mark Giordano has one year remaining on a five-year contract. Under the collective bargaining agreement, Treliving says he can't officially sign the 31-year-old defenceman to an extension until July 1.
"Mark Giordano is the number one priority for this summer," the GM said this week.
"That is one we hope to get wrapped up very quickly this summer."
Despite missing the last quarter of the regular season, Giordano posted a career-high 48 points in 61 games to finish fifth on the Flames.
The six-foot, 200-pound rearguard was on track for Norris Trophy consideration when he tore his bicep Feb. 25 in a road game against the New Jersey Devils.
Giordano watched from the press box as his team secured a playoff berth in the last home game of the regular season and got in 11 playoff games before bowing out to the Anaheim Ducks this past Sunday.
Treliving believes Giordano's leadership style was a difference-maker in Calgary's surprising run to the second round of playoffs.
"I think everybody in this room knows what Mark means to this team, both on and off the ice," Treliving said.
"He's a culture-setter for me. You can't win on the ice until you have the right culture off the ice. He sets that for us, so he's the priority."
Giordano's previous five-year extension signed in 2010 was worth $20.1 million.
At an annual average of $4.02 million, the captain wasn't the highest-paid Flame this past season. Defenceman Dennis Wideman was at $5.25 million.
"I'm sure Tree and myself will have a discussion and talk about things," Giordano said.
"I want to stay here and I think the feeling is mutual. We want to get something done sooner rather than later.
"You want to stick around and be here for a long time, hopefully the rest of my career."
Giordano underwent what was said to be season-ending surgery on his bicep March 4.
He began participating in full practice late last week with the green light to shoot the puck.
The development prompted speculation that Giordano was about to return to the lineup early.
"I think I was a ways away, but not unrealistic to think I could get back in if we went deep enough," the captain said.
Giordano, San Jose defenceman Brent Burns and New York Rangers goaltender Henrik Lundqvist are the three finalists for the NHL's Foundation Player Award that goes to an NHL player "who applies the core values of hockey — commitment, perseverance and teamwork — to enrich the lives of people in his community."
The winner will be announced June 24.
Locking up Giordano long-term may entice other Flames nearing the end of their contracts to stay in Calgary.
Jiri Hudler, David Jones, Joe Colborne, Johnny Gaudreau, Sean Monahan, defenceman Kris Russell and goaltender Jonas Hiller each have a year remaining on their deals.
But another pressing matter for Treliving this off-season is a number of restricted free-agent forwards: Mikael Backlund, Michael Ferland, Josh Jooris, Lance Bouma, Paul Byron and Drew Shore.
Defencemen David Schlemko, Rafael Diaz, Corey Potter and goaltender Karri Ramo will be unrestricted free agents.
NHL commissioner Gary Bettman has estimated the salary cap in 2015-16 will be about $73 million. Treliving will have between $20 million and $25 million in cap room.
"I know it's been talked about and I've been asked lots of questions this year, 'you've got all this cap room,' well you project out two years from now," the GM said.
"We've got models that go out five years from now. Some of those young players continue to play like they have, they're going to get significant increases."