Flames had no choice but to fire Hartley
The organization realized there's no way forward with a team that gets outchanced and outshot on a nightly basis, Travis Yost writes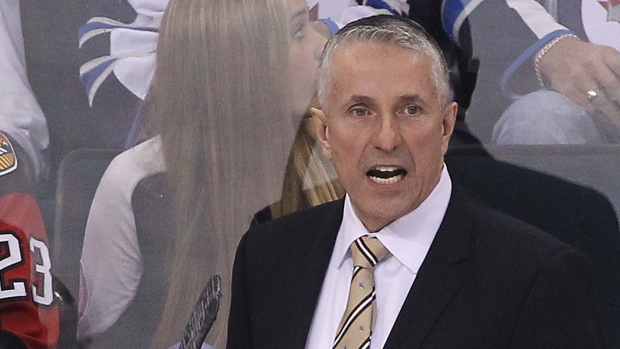 The Calgary Flames had no choice but to relieve head coach Bob Hartley of his duties.
And yet, in some ways, this must have been an extremely difficult decision for general manger Brad Treliving, president Brian Burke and the rest of the Calgary front office. Hartley was all of one season removed from winning hockey's most prestigious coaching award – one that is bestowed on the coach "adjudged to have contributed the most to his team's success."
I can't imagine the type of exit meeting you have with a coach who, quite literally, has the last name inscribed on that trophy.
But I think the decision speaks to Calgary's understanding of the situation. The talent on the roster is underperforming relative to expectations, with all signs pointing toward systems and structure submarining team efforts.
The biggest knock on Hartley's tenure in Calgary is that his teams were far less competitive than they appeared to be in the standings. We saw a convergence of those two things in the 2015-16 season, when Calgary missed the playoffs by 10 points. It was a much more accurate reflection of team competency than the playoff appearance of a year prior, a run driven by wildly unsustainable shooting percentages and an incredible overtime/shootout run.
This isn't exactly unfamiliar territory for a head coach. We saw the exact same storyline play out with Randy Carlyle's Toronto Maple Leafs. As soon as the standings and key performance metrics started to converge, the wins dissipated into thin air and he was shown the door. (Similar criticisms, it must be noted, have followed around current Colorado Avalanche head coach Patrick Roy. His team, much like the Flames in 2015-2016, has taken demonstrable steps backward since their playoff run in 2013-14.)
There are certain truths about coaches being hired to be fired and how a fairly substantial portion of their success hinges on the front office's competency in providing a steady influx of NHL-capable talent. And yet, there are just too many examples of good coaches replacing bad coaches in recent history to completely rule out coaching impact. My favourite example is the Phoenix Coyotes transition from Wayne Gretzky to Dave Tippett, but more recently you've seen it with the Carlyle/Peter Horachek to Mike Babcock switch in Toronto. The new coach took over a similar roster, yet there were emphatic deviations in key performance metrics.
I think there's a lot to be gained by focusing on coaches at both ends of the spectrum – the coaches whose teams see consistent 5-on-5 dominance across hundreds of games and in different environments, and the coaches whose teams see the complete opposite.
Hartley is a great example of this. If we charted Hartley's coaching track record in the four years with Calgary, we would see that his teams were outchanced and outshot on a nightly basis. Over long samples, this sort of stuff tends to win out, which is probably why the Flames managed to win just 45.5 per cent of games during his tenure.
By the time the shot clock hit zero on the Hartley era, there was one incontrovertible truth about his tenure: His teams were outshot at even strength by more than seven shots per game. That's not just bad by NHL standards, that's bad in comparison to some of the more beleaguered coaches in recent history.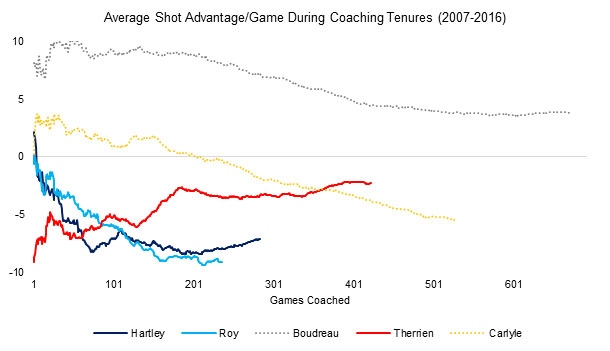 This, more than anything else, is a scathing indictment of how the team played – and where it was headed – in Calgary. It's also ultimately why the front office felt that "Bob had taken the team as far as he could take it."
Those are Treliving's words, not mine.
I put Bruce Boudreau on this graph for an obvious reason. It's not lost on me that the Flames decision to move on from Hartley came mere hours after Anaheim's decision to move on from Boudreau. There's certainly no guarantee that Calgary will be able to sign the former Anaheim coach with Minnesota and Ottawa also expected to have significant interest.
Boudreau's teams, unlike Hartley's, have pulverized their competition at 5-on-5. And, not coincidentally, Boudreau's win/loss record as a head coach is mind-bogglingly impressive. He's won over 60 per cent of the games he's coached with two separate teams.
Yes, Boudreau's first team was loaded with talent. But it must be noted that the team Boudreau took over in Anaheim was the same team Carlyle (also graphed above) drove into the ground. Carlyle would go on to drive another organization into the ground. Boudreau would go on to elevate another team well above break-even in the shot differentials.
Firing a head coach is never a plan, but there's a pretty good chance that most candidates on Calgary's shortlist will be able to compare to or outperform Hartley with what should be a nearly identical roster.
And if they hit a home run and lock up a candidate like Boudreau? Well, there's a good chance the Flames will be back in the playoff hunt come 2016-17.